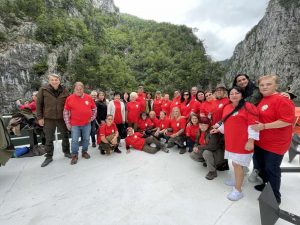 The CIC joins in celebrating the 10th anniversary of the Ladies Hunting Club in Serbia.
The Ladies Hunting Club – or Damski Lovački Klub – works to improve and develop women's rights through its activities engaging in hunting traditions and culture, as well as biodiversity conservation.
To commemorate the occasion, an event was held on 17 September in Tara National Park, Serbia.
Director General of the CIC, Tamás Marghescu, was in attendance to honour the organisation, which has been a member of the CIC since 2013.
The celebration was attended by delegations of women hunters' clubs from Bulgaria, Slovenia, Serbia, Hungary and Croatia.
The presidents of the regional hunting associations of central and western Serbia, representatives of Tara National and local authorities were also present at a gala dinner which took place in the evening.
As part of the evening festivities, the CIC Director General gave a laudatio and presented – on behalf of Dr. Philipp Harmer, President of the CIC– a commemorative plaquette to the President of the Ladies Hunting Club, Sanja Momčilović Bognič.
In his speech, the lady hunters of Serbia were encouraged to take the lead in assisting the CIC in its communications to the public.
The CIC wishes the Lady Hunters Club continued success in the years to come, and welcomes further collaboration with them going forward.
---