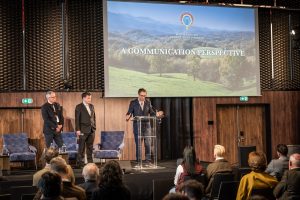 Report Back from the 7th International Journalism Symposium
Rob Yorke (Environmental Dialogue Broker)
The International Journalism Symposium (IJS) brings together journalists from various backgrounds to discuss best practices and issues the profession is facing.
In previous years, the IJS has been held in Namibia, Spain, Hungary, Estonia, Switzerland and the United States.
This year's symposium, which took place in the framework of the 69th General Assembly in Paris, took a closer look at the issue of technical writing within the context of effective storytelling.
Communicating concepts related to conservation – as well as other complex topics – are inherently based on technical information.
Conveying messages on these topics to non-experts can therefore be difficult, and can lead to key ideas not reaching the target audience.
The 7th IJS sought to explore some of these topics as part of a full day working session. From UN reporters and wildlife podcasters, to content creators and former Presidents of the Brussels Press Club, this year's IJS brought in a truly diverse range of journalists with a wide spectrum of views.
A full summary of the IJS will be available in the summer issue of the 2023 CIC Magazine, so make sure to stay tuned!
Seven key messages were extracted from the day's discussions, many of which are reflective of the talking points explored at the General Assembly itself.
Investing in non-extractive conservation will help carry the message of extractive conservation
Sustainable use or sustainable management?
Tell stories in a smarter way
Acknowledging that communications is different in different part of the world
Locate the evidence of where the money goes to show the benefits to communities
Smarter framing of the issues
"Red team" the "green" issues
We Don't Have the Luxury of Not Being Ambitious About Conservation
Graziel d'Estalenx (Conservation Atlantic Council)
 Exploring how to effectively coordinate with like-minded organisations was Graziel d'Estalenx, with his presentation, We Don't Have the Luxury of Not Being Ambitious About Conservation.
By showing successful examples of how some organisations are joining forces – by coordinating finances and messaging – a road map of potential action for conservation and sustainable use was also presented to participants.
A lack of synergy within conservation and sustainable use circles has been a common talking point in recent years, despite a shared common goal between relevant parties.
With ambitious targets like the Global Biodiversity Framework (GBF) and the UN Decade on Ecosystem Restoration, there is certainly a need for alignment within the conservation community going forwards to build towards a more sustainable and equitable world.
70% By 2027
Torbjörn Larsson, President of the European Federation for Hunting and Conservation (FACE)
President of FACE, Torbjörn Larsson, took the stage following Graziel's presentation to discuss FACE's own targets and how coordination can help bring them to fruition.
The FACE Strategy for 2027 – adopted last October at FACE's General Assembly – was outlined for participants. The strategy, built after workshops with the Board, Members, and external interviews with key stakeholders, sets out an ambitious strategy to be delivered within three strategic pillars: FACE, Hunting & Conservation, and Society.
One of the key goals outlined in the strategy is generating a 70% social acceptance of hunting in Europe by 2027.
Looking to gain acceptance from those undecided on the practice of hunting, rather than simply increasing the number of hunters, was stated as a clear way to safeguard the future of sustainable use.
While it was noted that those involved in sustainable use have historically been successful at solving hunting and game management centric issues, there has been a distinct lack of effort to promote the act of hunting itself.
Going forwards, FACE will be focusing their efforts on bringing together their members, individuals and organisations to coordinate and generate financing for this exact purpose.
FACE' Sign for Hunting campaign – a petition with over 260,000 signatures calling for better collaboration between FACE and EU decision making institutions – was stated as the first step in this direction.
---
Held under the theme Biodiversity 2030: Restore – Rewild – Remind, the 69th CIC General Assembly was among the first international conferences designed to move into implementation of the recently adopted 2030 Global Biodiversity Framework (GBF) and support the UN Decade on Ecosystem Restoration.
Hosted in Paris, France the event was both a reflection back on the organisation's heritage and a look forward to the future, with its outcomes due to be used to build the 2030 CIC Programme.
Summaries of the other Technical Sessions that took place at the General Assembly can be found below:
Biodiversity 2030: A Global Perspective
Biodiversity 2030: A French Perspective
Biodiversity 2030: A Stakeholder Perspective
---