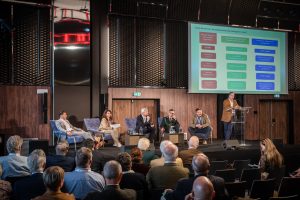 Meeting major conservation targets for the coming decade would not be possible without integrating the interests of a variety of stakeholders.
Technical Session III at the 69th General Assembly, Biodiversity 2030: A Stakeholder Perspective, was organised to explore this exact topic, with a particular focus on how the CIC can support underrepresented voices.
Introductory Report
József-Tamás Fodor, Head of the Romanian National Wildlife Management Service
Speakers
Dr. Daniel Natusch, Founder of People for Wildlife
Alec van Havre, European Landowners Organisation (ELO)
Krzysztof Kowalewski, CIC Young Opinion Representative
Sona Chovanova Supekova, President CIC Working Group Artemis
Moderator
Tom Opre, Shepherds of Wildlife
The session was opened with a speech from József-Tamás Fodor, who spoke about Romania joining the CIC as a new State Member. The CIC has worked closely with Romania throughout its history, particularly on the topic of large carnivores in recent years.
We warmly welcome the Romanian National Wildlife Management Service into the CIC Network, and are looking forward to collaborating closely with them going forwards.
Moving into the panel discussion portion of the session, Tom Opre set the scene by highlighting his work as a filmmaker giving a voice to rural communities. It was suggested that incentivisation was a key component for getting stakeholders to want to take care of their natural resources.
The loss of the countryside as engaged actors would be a significant loss, given the role that they play in actively managing rural areas.
Building on this point was Alec van Havre, who spoke about the effectiveness of integrated management approaches in the countryside; one where liberty and responsibility are closely linked through stewardship. ELO's Wildlife Estates label – a voluntary certification scheme – was created to highlight examples of best land management practice, which often embrace this integrated management approach.
Krzysztof Kowalewski then spoke about his first-hand experience as an engaged stakeholder in wildlife management processes. As an owner of a Ramsar area, he is the one of the first affected by environmental policymakers.
Echoing the words of Shane Mahoney from the Biodiversity 2030: A Global Perspective session, Krzysztof reiterated how utilisation is a necessity in wildlife management, rather than a choice. An adaptive sustainable use approach, therefore, was noted as something that should be widely adopted, rather than a niche practice.
This concept applies to utilisation beyond hunting, as evidenced during Dr. Daniel Natusch's intervention. His non-proft, People for Wildlife, buys or co-manages land around the world with the intention of conducting conservation work in those areas.
People for Wildlife is entirely funded through sustainable use, with 0% of the proceeds coming from hunting; animal skins and non-timber forest products are among the wildlife resources extracted as part of their operations.
Dr. Natusch did, however, speak about encountering issues similar to those faced by the hunting community, namely criticism from those who believe animals should not be used for any purpose.
It was suggested that these criticisms could be seen as a failure in communications – succeeding in conservation terms, but failing to "remind" others in a succinct fashion.
Soňa Chovanová Supeková's work as the President of CIC Working Group Artemis highlighted how hunting could be framed in a more approachable manner.
As the author of the CIC World Game Cookbook (2021), a collection of 207 game meat recipes from over 66 countries and regions, she has been introducing game to a broader audience through the medium of food.
The cookbook has led to Soňa being invited for television appearances and features in lifestyle magazines, attracting a different audience beyond those working in sustainable use and conservation circles.
---
Held under the theme Biodiversity 2030: Restore – Rewild – Remind, the 69th CIC General Assembly was among the first international conferences designed to move into implementation of the recently adopted 2030 Global Biodiversity Framework (GBF) and support the UN Decade on Ecosystem Restoration.
Hosted in Paris, France the event was both a reflection back on the organisation's heritage and a look forward to the future, with its outcomes due to be used to build the 2030 CIC Programme.
Summaries of the other Technical Sessions that took place at the General Assembly can be found below:
Biodiversity 2030: A Global Perspective
Biodiversity 2030: A French Perspective
Biodiversity 2030: A Communication Perspective
---