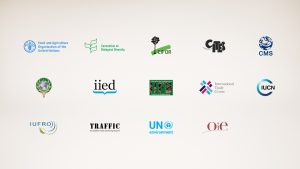 The Convention on Biological Diversity (CBD) is set to adopt a decision recognising the value of sustainable use in implementing the UN Sustainable Development Goals (SDGs) and the post 2020 global biodiversity framework. The news comes as part of the ongoing Fifteenth Meeting of the Conference of the Parties to the CBD (CBD COP15) in Montreal, Canada.
CBD COP15 is a landmark event, with the foremost thinkers and practitioners working on biodiversity matters gathering to decide on the future of global conservation. Most notably, the post 2020 global biodiversity framework is due to be adopted at the event, shaping the future of conservation activities for the coming years.
As part of the conference proceedings, a decision will be adopted by the CBD which inter alia recognises sustainable use – including the management of wildlife – as a tool that has contributed towards progress in the SDGs, the Aichi Biodiversity Targets while remaining relevant for the aforementioned global biodiversity framework.
The Collaborative Partnership on Sustainable Wildlife Management (CPW) – a partnership of 14 international organisations including the CIC, which was a founding member – made a joint statement at CBD COP15 welcoming the decision.
In particular, the statement emphasised the importance of the decision in relation to continuing the work on sustainable wildlife management that can significantly contribute to biodiversity conservation.
The CPW is a voluntary partnership consisting of organisations with mandates to promote the sustainable use and conservation of wildlife resources.
Each CPW member carries out work and programs relating to different aspects of sustainable use; through this multi-faceted approach, they are able to target a variety of thematic areas that can holistically address the SDGs and the global biodiversity framework.
Among the work areas currently being addressed within the CPW is food security, livelihoods, human-wildlife conflict, illegal and unsustainable hunting, as well as partnership coordination and outreach.
Looking ahead, this decision sets a new path for better coordination between CPW members and the CBD. In this regard, the CIC echoes the sentiments of the CPW joint statement, which highlights a willingness to continue working on relevant wildlife related topics going forward.
"We are preparing to meet the new sustainable wildlife management challenges that lie ahead, with the adoption of a new set of CPW thematic objectives.
Together, we bring rich expertise and technical knowledge that will directly contribute to the implementation of both the Decision on sustainable wildlife management and also the ambitious targets of the global biodiversity framework."
If you are interested in how the CPW can support the work of the CBD, we invite you to attend a CPW side-event at COP15 on December 15th which will explore the role of sustainable management of wild species by Indigenous Peoples and Local Communities in meeting the post-2020 global biodiversity framework (13.15-14.45 EST, Room 512F)
A progress report on the activities of the CPW since 2019 can be found on the CBD website.
---