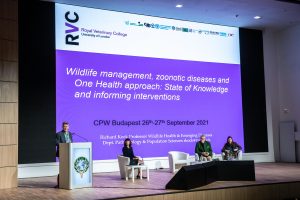 The second Technical Session of the 67th General Assembly was hosted within the framework of the Third Wildlife Forum of the Collaborative Partnership on Wildlife (CPW).
The session was moderated by Anastasiya Timoshyna, a Senior Programme Coordinator on Sustainable Trade from TRAFFIC.
The panel brought together experts of different backgrounds representing different organisations, namely:
Dr. Richard Kock
Royal Veterinary College, UK and IUCN SSC wildlife Health Specialist Group
Kristina Rodina
Forestry Officer for Wildlife and Protected Areas at the Food and Agriculture Organization of the United Nations
Dr. Tiggy Grillo
Scientific officer of Wildlife Health Programme at the World Organization for Animal Health, OIE. National Coordinator of Wildlife Health Australia
Dr. Hadrien Vanthomme & Dr. Marie-Marie Olive
Researcher of management of nature resources and landscapes forest and society unit of CIRAD & Researcher of epidemiology of arboviral and zoonotic diseases with CIRAD respectively
Dr. Torsten Morner
Head of Wildlife Disease and Game Meat Specialist Group at the International Council for Game and Wildlife Conservation, CIC
James Compton
USAID Wildlife TraPS Project Manager from TRAFFIC
The session focused on emerging zoonotic diseases, and looked at challenges, risks and opportunities in addressing them. The experts discussed the major role of domestic animals in disease transmission. It was mentioned how diseases transmitted specifically by wildlife are not as common as many believe. The session also focused on identifying specific supply chains and identifying points of intervention in order to reduce the risk of disease emergence.
In his presentation, Dr. Richard Kock highlighted that wild mammal and bird trade is dwarfed by trade in domestic animals, which is where the main zoonosis risks lie. He mentioned that wildlife in situ is only a rare source of zoonosis and that emerging diseases have anthropogenic drivers. Dr. Kock advised that we should reduce the biomass of our protein sources and reduce the number of domestic animals including domestic pets.
Kristina Rodina outlined the four guiding principles and the mission of CPW. In her presentation she emphasised that indigenous peoples and local communities actively use wildlife in their everyday life. She stressed that the involvement of indigenous peoples and local communities in policy response is low, and their cultures are not well addressed. Ms. Rodina underlined the importance of them being involved in policy making and being invited to international meetings.
Similarly, Dr. Tiggy Grillo talked about the Ad Hoc Group of Experts which also identified frontline personnel/practitioners as a key target group for practices on risk reduction and intervention, whereas National government authorities with mandates for animal health, public health, wildlife management, wildlife trade and enforcement were identified as key groups to target to provide risk assessment information, monitoring and evaluation in capacity gap analyses.
The presentation of Dr. Hadrien Vanthomme and Dr. Marie-Marie Olive brought forth the idea that, due to weak legal frameworks, we are seeing wildlife population depletion, local communities with weak capacities and right, informal value chains, increased urban demand and a lack of alternative meats. Therefore, it is important to reconcile community rights and cultural identity with the management of zoonotic risk and the protection of natural resources.
Reflecting on the previous point, Dr. Torsten Morner emphasised the crucial work that hunters have been carrying out that directly relates to the four guiding principles to reduce risks from zoonotic diseases, outlined in the joint CPW publication 'The COVID-19 challenge: Zoonotic diseases and wildlife.' In his discussion he stressed that hunters need to be invited to the discussions concerning the monitoring and mitigation of the risk of new disease emergence.
In his presentation, James Compton stressed that in order to develop practical solutions for wildlife trade and disease risk management, we need to understand context specific factors. The importance of identifying high-risk interfaces and combining interventions was mentioned, including policy reform, compliance and law enforcement, one health coordination, risk assessment and mitigation measures, supply chain management and traceability, as well as social behavioural change.
Building on the presentations delivered by the panellists, the questions that were put forward focused on how to move from theoretical ideas to practical solutions. It was agreed by the experts that the necessary knowledge is already available and that it is important to continuously monitor the current situation and understand what risks are present, as well as implement the mechanisms that are already in place. It was also agreed that communication between different bodies, such as veterinarians, hunters, NGOs, governments, and authorities is essential.
---