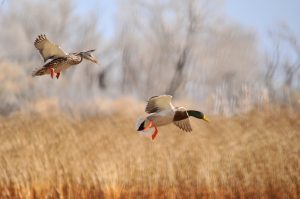 The CIC joins in celebrating World Migratory Bird Day (WMBD)!
WMBD is a bi-annual event hosted by AEWA – the Agreement on the Conservation of African-Eurasian Migratory Waterbirds – which looks to raise awareness on the importance of migratory waterbirds and the cooperation required to conserve them.
As part of this year's theme, WMBD is bringing attention to the impact of light pollution on migratory birds.
In support of this theme, we challenged our friends and members to reduce the amount of light they produce when visiting coastal areas during May's celebration of WMBD.
Since then, we have heard several accounts of people looking to mitigate their impact on birds by limiting the amount of light they produce when going on hunts. We extend our thanks to everyone that got involved!
As one of the few stakeholders with a vested interest in migratory waterbirds, the CIC understands the value in getting hunters engaged in their continued survival.
To continue raising awareness on this vital topic, we are encouraging you to view this animation produced for WMBD 2022.
Follow a small songbird as it is lured into the dangers of the city by intense lights. The threats it faces are common for migrating birds trying to navigate urban environments. By turning out nonessential lighting at night, birds are less likely to become disoriented on their long journeys.
---