In February of this year, the world first heard of the events that are continuing to unfold in Ukraine.
It was at this time that the CIC realised it could provide some real assistance to those in need.
Since March 2nd – just two weeks after the conflict first broke out – the organisation has been supporting and providing assistance to those impacted by the crisis in Ukraine.
Our humanitarian work has only been possible due to the generous support of our members and partners, who have helped raise over €350,000 through direct financial contributions, as well as in-kind donations.
This critical funding has allowed us to spend some €298,000 on food, materials and services in direct support of Ukraine. The scope of this work has been significant, spanning four different countries – including Ukraine itself – while benefiting thousands of refugees.
We sincerely thank everyone who has donated to this cause so far. It should be stressed, however, that the situation is far from being resolved.
Every day, countless individuals are being displaced. In many cases, people are travelling across the Ukrainian border with no plans or resources.
Please donate using the button below so that we can continue our work assisting people during this difficult time. Even the smallest donation has a huge real-world impact.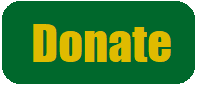 If you are interested to see how your donations are being used, here is a summary of some of the activities we have been carrying out over the past several months.
Power Generators Put to Good Use in Ukraine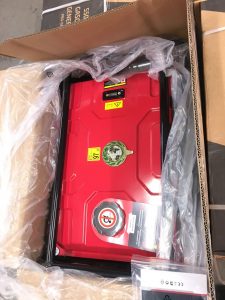 At the end of March, we informed you of six 5,500-watt generators which were purchased using CIC donations and sent directly into Ukraine.
Here is an update on how they have been used.
For a few months the generators were in Kiev, however, they have now been moved to other critical areas.
Several of the generators are currently being used at a hospital in Kharkiv. The rest are transported as and where needed to newly liberated regions that have limited or no access to infrastructure such as electricity and water.
We would like to extend our thanks to the many Ukrainian volunteers that came forward to help us with this initiative, without whom the transport of these generators would not have been possible.
Medical Supplies Transported into Ukraine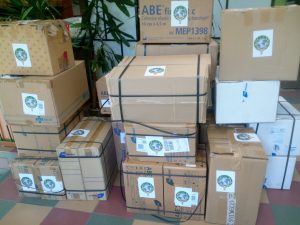 €3,000 worth of medical equipment was purchased and transported for use in Ukraine.
The equipment included latex gloves, bandages, catheters, sponges, cloths and more, all of which assisted doctors and medical professionals in providing care to those injured as a result of the ongoing conflict.
Christopher Kowalewski – a CIC Member from Poland who has been coordinating efforts to assist refugees in his country – was also able to provide medicine and blankets to the shipment.
In part, the supplies were used at a hospital in Ivano-Frankivsk. The rest were moved to an undisclosed area in the eastern part of Ukraine.
Soup and a Nine Seater Minibus in Use at the Hungarian Border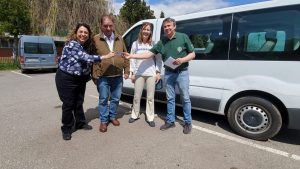 After putting out a notice to our friends and members on the need for a nine seater minibus at the Hungarian border town of Záhony, we are happy to say our calls were answered.
The purchase of the vehicle – which cost a total of €8,000 – was in part funded through donations, with the CIC contribution amounting to €3,000. The purchase was also sponsored by CIC Young Opinion Members, Marc Aman, Urs Weingart, Philipp Delacher and Claudio Walde.
In addition, we extend our thanks to Helene von Hodenberg, Engel and Völkers Erlangen, Gärtnerei Hohn, as well as Steinberg HKC AG (through which the minibus was officially purchased), for their contributions.
Adriane Möhl and Adriana Moreno, two other individuals sourced through the CIC network, assisted the effort by driving the minibus from Switzerland to Záhony.
The bus is being used to supply goods to a number of refugee support stations, as well as to transport refugees to and from accommodation sites within Záhony.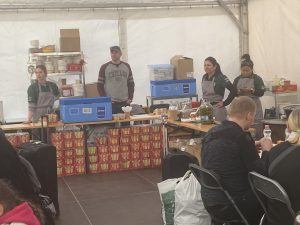 In addition, the CIC food distribution stand in Záhony – which has been operational since March 7th – continues to serve hot food to refugees.
Around 60-90 litres of soup is cooked and distributed on a daily basis. Once again, we thank the Diana Club of Hungary and other dedicated volunteers for their assistance in keeping the station running every day.
100 Beds and 18,000 Juice Boxes Donated In Support of Refugees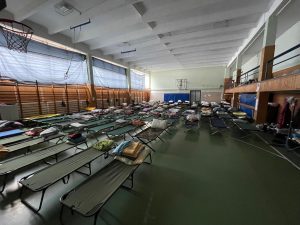 Through the CIC network, donations of 100 foldable beds and 18,000 juice boxes were sourced for refugees at the Hungarian border town of Záhony.
The beds were kindly donated by the Maltese Hospital Service Austria, and were put to immediate use at a welcome centre for refugees. Foldable beds were among the many essential items that were requested as a matter of urgency by the local mayor.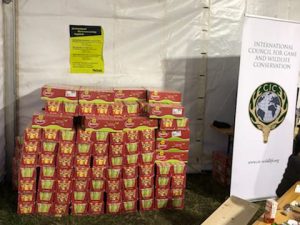 Long-time partner of the CIC, RAUCH (Austria), also generously donated 18,000 juice boxes, which were handed out at the CIC food distribution station in operation at the Hungarian border.
---
---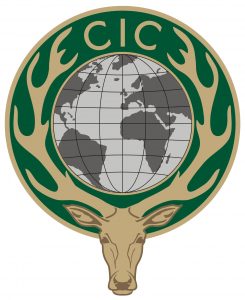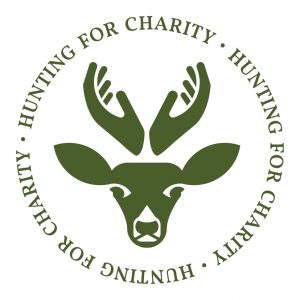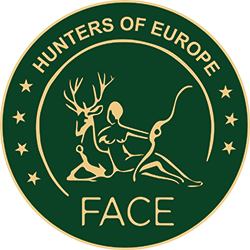 The CIC is assisting the ongoing humanitarian efforts in collaboration with the National Hunting for Charity Organisation (OJV KNP Kft.), the European Federation for Hunting and Conservation (FACE) and the Hungarian Hunters' National Chamber (OMVK).
---