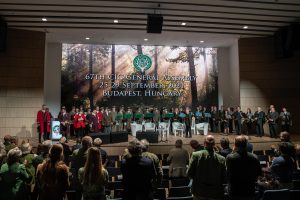 26 September, 2021 marked a historic occasion. Hunting horn players from various corners of Europe came together to perform, for the first time ever, as part of the European Hunting Horn Ensemble. Their inaugural performance took place during the 67th General Assembly (GA) of the CIC.
This was made all the more special given that the CIC GA is being held in the framework of Hungary's One with Nature (OWN) World Hunting and Nature Exhibition.
This new ensemble is the brainchild of the Académie trompes et cors (ATC), established recently by France, with the goal of bringing together hunting horn players in order to increase recognition of and celebrate hunting horn music.
Together with the CIC, the ensemble has, to-date, managed to reunite horn players from seven different European nations, six of which were present at the inaugural performance in Budapest. The musicians from ATC were joined by other horn players from Belgium and France, as well as groups from the following four other European countries:
Czech Republic: Trubači ČMMJ
Hungary: Baranya Vadászkürt Együttes
Poland: Zespół Trębaczy Myśliwskich – Zespołu Szkół Leśnych w Goraju
Slovakia: Trubači z Klubu trubačov SR
The first ever joint musical performance of the ensemble was appropriately titled 'Együtt', which in Hungarian means 'together'. The piece, composed by Hervé Teknia of ATC, was met with a resounding applause from all in attendance.
As well as performing during the opening of the CIC GA, the ensemble performed both individual group pieces during the Official Opening of the OWN Exhibition, the Welcome Dinner of the CIC GA, and the National Hunting Horn Competition taking place in the framework of OWN.
This represents an incredible moment for hunting horns, but also for hunting art and culture more broadly! We see this as an important step in increasing the recognition of hunting horns as an intangible part of hunting culture in many parts of Europe in particular.
For more information, you can download a copy of our flyers on the European Hunting Horn Ensemble which are available in English, German and French.
---