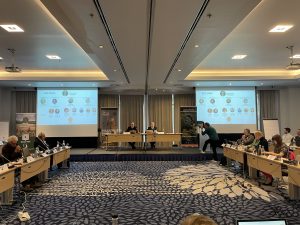 The European Federation for Hunting and Conservation (FACE) held its General Assembly this week on 25-27 October, 2022 in Brussels.
October 25th was a particularly momentous day for FACE, as it marked the 45th anniversary since they were established in 1977.
As a long time partner of the CIC, we extend our sincere congratulations to FACE for remaining committed to working in the interests of European hunters and wildlife during this period of time.
The CIC Director General, Tamás Marghescu, was in attendance in Brussels to take part in the deliberations, and to present a special gold CIC plaquette to honour FACE on their achievement.
The General Assembly served as an opportunity for the heads of Europe's hunting associations and organisations to gather and explore the prevailing issues relevant to the wider world of conservation and sustainable use.
FACE's European Hunters' Campaign (#SignForHunting) was one of the topics of discussion. Since the campaign was first launched several months ago, FACE have collected some 200,00 signatures towards building a better mechanism for hunting discourse in Brussels. If you have yet to register your support, you can do so here.
The adoption of the FACE Strategy for 2027 was another significant issue at the General Assembly, with FACE committing to creating a Europe rich in biodiversity and hunting opportunities for the years to come.
The event was rounded off on Thursday with a discussion in European Parliament on sustainable hunting and conservation best practices, which was hosted by MEP Alex Agius Saliba.
In parallel with FACE's General Assembly, the CIC Director General took the time to meet with representatives of the European Commission's Directorate-General for International Partnerships, where the possibility of forthcoming opportunities for collaboration was explored.
In addition, a visit was paid to the European Forestry House, in which talks were held with the head of EUSTAFOR (European State Forest Association); it is expected that further discussions will take place in the coming weeks to elaborate on common interests such as alliances of cooperation.
Once again, the CIC congratulates FACE on 45 wonderful years, and wishes them continued success going forwards.
---