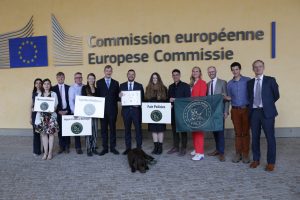 As part of EU Green Week 2023, FACE submitted its landmark petition from its SignforHunting campaign to the European Commission, showing the engagement of over 360,000 European hunters who provided their signatures in support of the initiative.
The SignforHunting campaign is among the first of its kind, collecting signatures from hunters across Europe looking for better recognition of their contributions to biodiversity by European institutions.
As a long-standing partner of FACE, the CIC has been actively advocating for the campaign since it was launched last year and its goals to highlight the role that sustainable use plays in conservation.
The petition is one of the biggest environmental campaigns conducted in Brussels, and can be seen as a call for change at the European level and an offer of support from the perspective of hunters.
European Commissioner for Environment, Virginijus Sinkevičius, officially took receipt of the signatures yesterday, stating:
"Many of the requests contained in your petition demonstrate our shared concern and determination to successfully address the challenge of halting and reversing the dramatic loss of biodiversity in this decade."
Among the contents of the petition is a call to support the EU's Nature Restoration Law proposal. As a next step, further collaboration and discussion between FACE and European institutions should look to place a focus on the services hunters provide for society, within the framework of broader conservation targets such as the Global Biodiversity Framework.
---