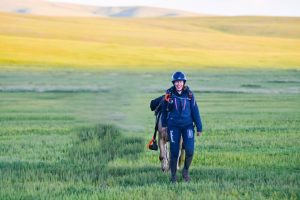 We are proud to announce that CIC member Flurina Hammer finished in 12th place in the 2022 Mongol Derby!
After entering the Mongol Derby in support of the CIC's Flying Vets project, Flurina crossed the finish line last week, completing her 1,000km journey across the Mongolian steppe.
Below you will find an interview we held with Flurina in which she talked about her experiences in the Derby.
In addition, you can hear about some of the outcomes from the Flying Vets' multi-stakeholder meeting which took place in Ulaanbaatar, Mongolia on August 3rd.
Congratulations on finishing 12th in the Mongol Derby! How was the experience for you?
Thank you for the congratulations! I am very happy with the result and it was truly a once-in-a-lifetime experience.
It is a tough adventure but one that allows you to fully experience Mongolian culture and the beauty of its nature. The horses, descendants from the horses that belonged to the famous Genghis Khan, were fantastic and brought their fighter mindset. Small, but mighty.
Why did you choose to participate in the race on behalf of the CIC and the Flying Vets project?
I wanted to raise awareness for a good cause and as a long-time and engaged CIC member, the CIC was of course on the top of my list of organisations to support.
Based on this first idea we came up with the initiative to create the Flying Vets project in Mongolia, in order to make a direct impact locally and to address the pressing issue of wildlife disease management in the country.
The first phase of the Flying Vets took place in Ulaanbaatar, Mongolia on 3 August in the form of a multi-stakeholder meeting. What were your thoughts going into the meeting?
Taking part in the race allowed me to gain a deeper understanding of Mongolian culture and the problems linked with the traditional nomadic lifestyle, as well as the country's environment. Taking these insights to the meeting after the race allowed me to see some aspects in a different context.
The meeting outcome was successful and I am very confident that we had the right stakeholders participating onsite and remotely. The issues in wildlife disease management need to be addressed in collaboration with different partners and we laid the groundwork with this initial meeting.
Furthermore, wildlife disease management is an important pillar in the One Health approach, yet there are not enough measures taken in this area. That's where the Flying Vets project fills a gap. As the next step, we want to execute the feasibility study with the respective experts.
More information on the Flying Vets project can be found here. To donate towards the project, you can do so here.
---