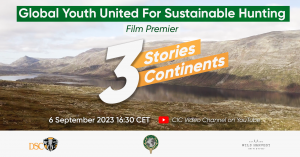 Join us for the official premier of Global Youth United for Sustainable Hunting, a short film exploring the future of global responsible hunting told through three different stories across three different continents.
Global Youth United for Sustainable Hunting is a joint film initiative produced by the International Council for Game and Wildlife Conservation (CIC)'s Young Opinion Leaders, Dallas Safari Club (DSC) and the Wild Harvest Initiative (a program of Conservation Visions).
The project brings together young voices and narratives from around the world to challenge conventional stereotypes surrounding hunting, while delving deeper into the realities of managed, sustainable hunting activities.
By showcasing examples of best practices in sustainable wildlife management, the film gives a glimpse at a future where hunting is broadly recognised as a tool contributing to wider conservation goals, such as the Kunming-Montreal Global Biodiversity Framework.
Tune in as we take you on a journey to the rugged hills of northern Sweden, the top of the world in Tajikistan and the sun-drenched lands of southern Africa in pursuit of meat, memories and adventure.
Global Youth United for Sustainable Hunting will be premiering on the CIC YouTube Channel tomorrow at 16:30 CET!
---
Global Youth United for Sustainable Hunting
Three Stories, Three Continents
Northern Sweden
Small game hunters in northern Sweden share the mountains with the Sámi, a group of indigenous people that inhabit the region. The Sámi manage the land, sustainably using the available wildlife resources while servicing the wider ecosystem.
Benefiting from this management is grouse, an iconic species that plays an important role in the food culture for those living in these remote areas. Explore the beauty of this species as we take you on this journey through the Swedish mountains.
Tajikistan
Tajikistan is home to the markhor, an endemic species that has now become a symbol of this beautiful and historic country. In the 1990s, the markhor was close to extinction due to poaching and overgrazing by livestock.
Through the introduction of sustainable hunting activities, operated through community conservancies that generate benefits to locals, populations of markhor have bounced back to healthy levels. A true conservation story, created for – and managed by – local stakeholders.
*This portion of the film was compiled from footage that was provided by partner organisations and filmed prior to 2020. We acknowledge that wildlife management programs are constantly changing and evolving. The situation on the ground may have changed due to certain reasons since the film's production and its release now in 2023.
Southern Africa (Zimbabwe)
People around the world do not always appreciate the harsh realities of rural Africa. The destruction of crops, livestock and human bodily harm are threats that are a reality for many living in southern Africa.
In the same way, people do not always understand how hunting can benefit wildlife conservation and support livelihoods. Meat distribution, wealth generation, and infrastructure development – these are just some of the benefits created through legal and sustainable hunting activities. This story from Zimbabwe is typical of the experience throughout southern Africa.
---
If you are looking for more great content on wildlife and conservation, we would recommend you check out another CIC production that is in development, Nature's Keepers.
The series places a spotlight on those restoring, maintaining and supporting biodiversity across the globe through educational short films that highlight the human side of conservation activities to those unfamiliar with this topic matter.
The pilot episode – in which chef János Mizsei is guided by wildlife biologist Attila Földvári through a local forest habitat to better understand how sustainable use contributes to biodiversity and conservation – can be seen on the Nature's Keepers YouTube Channel.
---