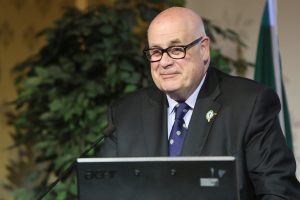 Dear Members of the CIC,
Dear Partners and Friends,
It is with immense sadness and grief that I, on behalf of the CIC, write to you regarding the death of our Honorary President Bernard Lozé on October 31st, 2021.
Our sincerest condolences go first to his family, for whom no words can ever fill the great void that he leaves. As a friend, I respected him enormously, I loved him dearly. I know I am not alone in feeling this way.
Honorary President of the CIC (2016–), President of the CIC (2010–2016) and Vice-President (2008–2010), Bernard contributed hugely towards the vision and mission of the organisation. The energy he brought with him put a smile of the faces of everyone. He will always be remembered as an extremely generous person, one who sought to help others and to make people happy.
Born in 1946 to an industrialist, whose father served as the French Ambassador in Vienna, Bernard suffered great losses already at a young age, with his brother dying in a car accident and the family business in difficulties. He served in the French Military as a paratrooper, with numerous postings in Africa. Later in life he built an extremely successful Hedge Fund.
Against this background and experiences, his main objective in life, and indeed in the CIC, was to maintain peace and friendship. Every year he invited friends, including many CIC members, for hunting on the grounds of Vieux Maison. Being the gourmet that he was, guests were always treated to incredible dishes, fine wines and great company. He also established and continued to organise the infamous French-Russian dinners at CIC General Assemblies. A great lover of music, and a fine musician and singer, Bernard lit up the evenings at CIC GAs. With his guitar and fellow musicians, he drew in the crowds and sang into the early hours.
Indeed, Bernard was an icon in Franco-Russian relations, and a strong supporter of the CIC's Coordination Forum for Central and Eastern Europe. He was always looking to break down borders between people. Above all else, he was one of hunting's strongest supporters, advocating tirelessly for the future of our shared passion. His belief and passion for hunting were evident in all that he did.
He served as Co-Chairman of the General Council of the Eurasian Peoples' Assembly, and was awarded the French Legion of Honour – Chevalier (Knight) and the Commanders Cross of Hungary.
I cannot express enough my sadness, but equally my deepest admiration and respect for the fine man that he was. The world, and indeed hunting, have lost a great personality who will forever be remembered for his generosity and tireless efforts to bring peace and comradery to those around him.
Sincerely,
Philipp Harmer
President of the CIC
---