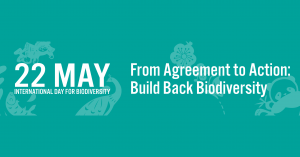 The CIC joins in celebrating the International Day for Biological Diversity (IDB) 2023!
"Agreement To Action: Build Back Biodiversity" marks today's International Day for Biological Diversity which echoes the recent outcomes of the CIC General Assembly "Biodiversity 2030 – Restore, Rewild, Remind"– being the first international gathering working on the implementation of the 2030 Global Biodiversity Framework (GBF).
The 23 Targets of the GBF will inform the development of the CIC 2030 Programme which will also mark the 100th anniversary of CIC. The CIC Paris General Assembly adopted three recommendations directly supporting the implementation of the GBF, namely:
Calling on the CIC to support UN One Health efforts through citizen science and contributions to the monitoring and prevention of zoonotic diseases, scaling up the successful CIC Flying Vets project in Mongolia and directly supporting GBF Targets 5 and 11.
Establishing a CIC Indigenous Peoples and Local Communities Working Group, which will directly address 7 of the 23 GBF Targets.
Developing the first CIC Global 2030 Programme to further support sustainable use practices as part of legal, well-regulated wildlife management systems that provide benefits to human well-being are reflective of GBF Targets 5 and 9.
The President of the CIC, Dr. Philipp Harmer, discussed the importance of the GBF for the CIC by noting that "The 69th CIC General Assembly – which took place in Paris this April – was among the first international conferences designed to move into implementation of the Global Biodiversity Framework with the participation of the Secretary Generals of three biodiversity related Conventions and with more than 400 stakeholders from the biodiversity conservation community. This is why we will be building the CIC Programme for 2030 with key insights taken from the General Assembly, which explored biodiversity issues specifically through a Global Biodiversity Framework lens.
Currently, the UN Decade on Ecosystem Restoration is a vital component of the CIC Statutes, which were updated at the 68th General Assembly in Riga in 2022 to reflect the CIC's commitment to wider sustainable development issues. Hunters have already been engaged in ecosystem management and restoration efforts which are being increased in support of the UN Decade on Ecosystem Restoration."
For more information on the General Assembly and its synergies with the GBF, please read our full summary of the conference.
More information on the CIC Programme for 2030 will be announced in the coming months.
---