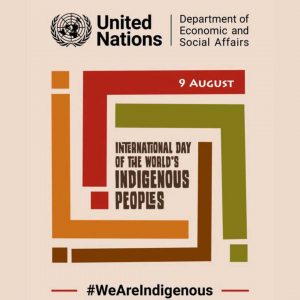 Today is the International Day of the World's Indigenous Peoples!
Indigenous peoples play an essential role in modern day approaches to wildlife and natural resource management.
Not only are they a wealth of knowledge on how to sustainability utilise wildlife resources, they are also key workers acting on the frontline of conservation activities.
That is why today's celebration is a call to empower indigenous peoples and their right to make their own decisions, particularly their right to sustainably use natural resources to support their livelihoods and wider ecosystems.
Environmental conventions and agreements are increasingly recognising the importance of indigenous peoples to the future of our planet, as demonstrated by their inclusion throughout the Kunming-Montreal Global Biodiversity Framework.
The Framework acknowledges the contributions of indigenous peoples and local communities in the conservation, restoration and sustainable use of biodiversity, while noting the need to ensure their rights.
The theme for this year's International Day of the World's Indigenous Peoples – Indigenous Youth as Agents of Change for Self-determination – is also reflected in the Framework, which calls for the participation in decision-making of indigenous peoples, including children and youth, for access to justice, and for the full protection of environmental human rights defenders.
Many of these ideas were explored fully at the 69th CIC General Assembly in Paris this past April, which was among the first international conferences designed to move into implementation of the Global Biodiversity Framework since its adoption in Montreal last year.
Among the outcomes of the General Assembly was the establishment of a CIC Indigenous Peoples and Local Communities Working Group, which will further build on the organisation's existing work on this topic in line with international conservation and environmental targets.
The CIC has focused much of its efforts towards supporting indigenous peoples and local communities in recent years, helping to provide a platform for marginalised voices to be heard in international policy making processes.
Activities in this regard include rendering financial support to ensure the participation of community leaders at environmental conferences (e.g. IUCN APAC 2022, Jagd & Hund 2023), as well as hosting press conferences in European Parliament for stakeholders to discuss sustainable use in a southern African context.
The 2030 CIC Programme – which will map out the organisation's activities up until the end of this decade – is currently in development and will look to create synergies between the CIC's work in conservation and in support of indigenous peoples, with the aim of amplifying the organisation's contributions to Global Biodiversity Framework for the years ahead. The Programme is due to be presented and adopted at the 70th General Assembly in Portugal on 18-21 April, 2024.
---