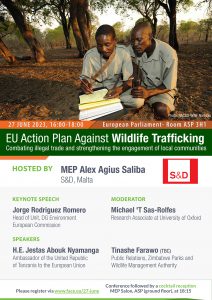 The "EU Action Plan Against Wildlife Trafficking: Combating illegal trade and strengthening the engagement of local communities" event will take place on 27 June, 2023 (16:00 – 18:00 CET) in European Parliament.
The event will be livestreamed online and will be open to all viewers. To register your participation, visit the official website and enter your details.
Hosted by MEP Alex Agius Saliba (S&D, Malta) – and supported by the CIC – the event will look to explore the EU Action Plan Against Wildlife Trafficking.
The European Commission adopted a revised EU Action Plan on Wildlife Trafficking in 2022, setting out new ways to tackle this constantly evolving threat to our planet and its peoples.
It should be noted that wildlife trafficking has a devastating impact on communities and rural inhabitants, particularly those dependent on the legal trade of wildlife resources as part of their livelihoods. This is true for both consumptive and non-consumptive sustainable utilisation.
In addition, illegal and non-regulated trade can destroy wildlife populations, habitats and entire ecosystems if left unchecked. The widespread illegal trade of wild animals can also increase the risk of transmission of zoonotic diseases, thereby posing a risk to public health.
As a direct response to these issues, the EU is looking to play a significant role in the international fight against wildlife trafficking.
---