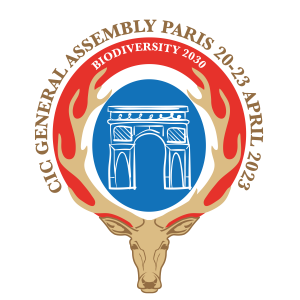 We are happy to announce that registrations for the 69th General Assembly are now open!
Join us on 20-23 April, 2023 in Paris as we explore the world's prevailing conservation issues under the theme Biodiversity 2030 and the motto, "Restore – Rewild – Remind."
To have success going forwards, there will be a distinct need to think of new ways to conserve what we have at hand, and to bring back what we have lost. All while remembering the core values of the CIC.
This is what we hope to explore with all of you in April. In addition, this General Assembly will be particularly significant as it will lay the foundations of the CIC Programme for 2030.
To find out more about the event, and to register your attendance, visit the General Assembly website.

Please note that a limited number of spaces have been reserved at the joint hotel and conference venue (Hotel Pullman Montparnasse).
Book your rooms through the General Assembly website at your earliest convenience to secure your place in advance.
---