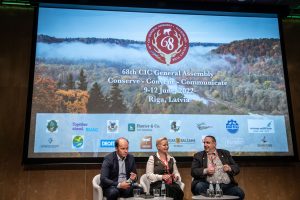 With the 68th General Assembly hosted in Latvia, we wanted to take this opportunity to shine a light on the wildlife management practices that are taking place in the Baltic region.
In this session, representatives from Latvia, Lithuania and Estonia were invited to give participants a presentation on the wildlife management practices in their respective countries, as well as their approach to communications in their work. The session was moderated by CIC Deputy Director General, Sebastian Winkler.
Linda Dombrovska (Latvia Hunters Society) from Latvia opened by providing a brief overview of the Baltic region as a whole. It was stated that there are over 65,000 hunters across the entire region, which covers an area of 175,228 km2. Common iconic hunted species include bear, lynx and wolves. Forests also cover a large percentage of the Baltics, with a cover of 50% in both Latvia and Estonia. The role of hunting as a uniting force was also stressed, one that expands beyond borders and languages.
Feliksas Miliutis (Lithuanian Hunters' and Anglers' Association) then took the stage to discuss the wildlife management policies in Lithuania, however, it was stated there are many similarities in approach across all three countries.
Population management was a topic that reoccurred several times during the presentation. In this regard, European beaver was mentioned as a hunted species of note, due to the fact that beaver is protected under the Bern convention in many other countries. Some 100,000 beaver currently reside in Lithuania, requiring significant hunting activities to actively manage their numbers. 
Another ongoing issue they are facing is related to the European bison. After being reintroduced, their numbers grew rapidly across the country, ultimately resulting in significant damages to crops. Despite this, there is no prerequisite for damage compensation, due to the fact that bison is not a hunted species. As a solution, translocation of bison to enclosures and other areas is being used to reduce their impact.
Hundreds of hectares of crops are also devastated by migratory wild birds every year; as it stands, the hunting of cranes and swans is prohibited, and wild geese can only be hunted in the autumn.
Representing Estonia was Andres Lillemäe (Estonian Hunters Society), who outlined some interesting projects carried out within the country, as well as the public's shift in attitude towards the hunting community in recent years.
One example of a project designed to tackle human-wildlife conflict was the introduction of reflectors on roads, which create a wall of light once hit by a car's headlights. This makes the presence of cars more visible to animals (such as deer), thereby reducing the likelihood of a vehicle collision.
Another project that was successful in Estonia was related to the regulation of small predators on the coastline. Bird populations were being devastated in these areas prior to the intervention; six hunting territories are now looking to manage small predator numbers for the benefit of these birds to great effect.
From a communications perspective, an interesting piece of insight shared with participants was the reputation of hunters before and after the emergence of African Swine Fever. After the government and the public realised that hunters can play a key role in tackling the disease, their stance on hunters and hunting itself shifted dramatically, causing them to be now viewed in a positive light.
If you are interested in more details, this session can be viewed in full on the CIC YouTube Channel. A video of the whole day's proceedings is available here – Technical Session I takes place between 1:50:05 – 2:24:00.
---