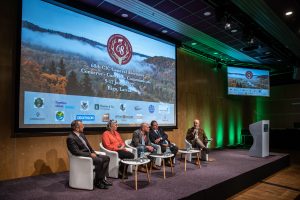 Organisations working in different fields will often use a wide range of communications strategies to best suit their vision and mission.
This session looked to compare and contrast the strategies employed by a variety of organisations and sectors, while exploring how these strategies can be used to support wildlife conservation. 
Setting the scene on the topic was Dr. Zoltán Kovács (Hungarian State Secretary for International Communication & Relations) who moderated the session. He opened by noting that communications is simply a tool; a means to an end in order to achieve something. In order to effectively communicate, one needs both an identity and a narrative first. With this in mind, speakers were asked to draw on their experiences on these two elements.
​Stephen Fern (Chairman of Ark2030 Foundation) argued that hunters need a brand change. It was put forward that working with an organisation such as Ark2030 – which collects funding from foundations, corporations and other grant making bodies and deploys them into their "Eco System Restoration Partners" –  would assist with such a brand change, as well it would align them with an organisation working in field with less negative coverage and perceptions.
During her intervention, Deborah Vorhies (CEO of Fair Wild) emphasised the importance of integrity. Speaking on her experience working with Fair Wild, a voluntary opt-in certification scheme for private sustainable wild plant collection operations, she stated that certification schemes allow for the validation of integrity across entire supply chains, thereby further promoting concepts of sustainability across a broader range of people and stakeholders.
Tamás Marghescu (CIC Director General) then spoke about the image of hunters, which has changed dramatically over the past years. While it was stated that change needs to happen, it was suggested that this change needs to come from within hunters themselves. The CIC's recent efforts to support humanitarian efforts in aid of Ukraine was put forward as an example of this, with the news coverage reaching numerous countries and hundreds of outlets.
Discussing the importance of bringing the voices of communities to policymakers in Europe was Stephan Wunderlich (German CIC Delegation), who made reference to his experience working with the African community leaders. Prior to the 68th General Assembly, he and Bupe Banda (Community Leaders Network) had travelled throughout Europe in an effort to bring the local voices to policymakers and decision makers. In this context, he mentioned that his role is to work as a vessel to bring important stories and narratives to the table. 
If you are interested in more details, this session can be viewed in full on the CIC YouTube Channel. A video of the whole day's proceedings is available here – Technical Session I takes place between 5:11:51 – 5:54:23.
---