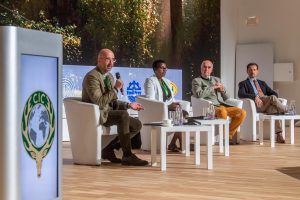 "Alliances, the way to gain political strength" was the title of the sixth Technical Session of the 67th General Assembly.
Zoltán Kovács, Government Commissioner of the One with Nature (OWN) Exhibition, was the moderator for this session. He opened by stating that life in the countryside is under attack – this was attributed to nature itself, urban development and politics. It was suggested that the only way to combat this is to give the countryside community, whose values are the foundation of our human existence, a voice. Creating alliances for the countryside was therefore one of the key themes of this session.
Joining Zoltán Kovács for this session were panellists George Aman (President of the CIC), Patricia Wangui (Operations Manager at Resource Africa South Africa, RA-SA) and Dr. Miklós Jármy (Hungarian Equestrian Federation).
As the first question, Patricia Wangui was asked: "What kinds of countryside alliances are you aware of and what is the best way to build them?"
She highlighted the work of Resource Africa, which supports rural communities across Africa and has also created the Community Leaders Network (CLN) – a collection of national organisations that practice community based natural resource management (CBNRM).
By representing multiple stakeholders from different countries, they have found they are perceived as more credible, particularly when dealing with political institutions.
Building on this idea, George Aman expanded on how an alliance can build credibility. Making reference to the Collaborative Partnership on Sustainable Wildlife Management (CPW), a collection of 14 organisations including the CIC with substantive mandates to promote the sustainable use and conservation of wildlife resources, he stated that an alliance based on science will help in regards to credibility. This is a fact that is especially true when considering the prevalent use of emotions by those opposed to hunting.
He also spoke about the alliance between the CIC, the International Horse Sports Confederation (IHSC) and the International Sport Fishing Confederation (CIPS) – three organisations that represent the interests of over 100 million people that sustainably use nature. As their three fields of work are all under attack, combing their memberships allowed them to speak with one unified voice, thereby increasing their visibility and credibility.
Dr. Miklós Jármy then provided some insight into the alliances within the field of equestrianism. It was stated that the aforementioned IHSC was in fact an alliance within the equestrian world, with two organisations coming together to create a new entity in order to share scientific knowledge and communications.
Speaking on the issue on a wider scope, it was suggested that the aim should be to protect life in the countryside. Dr. Jármy also emphasised the need to create alliances with hunters and fishermen, however the lack of understanding between these stakeholders was emphasised as well as the need to unite their efforts going forward.
The importance of effectively speaking with one voice was stressed as another key issue within alliances. George Aman gave the CIC's recent contributions to the CITES (Convention on International Trade in Endangered Species of Wild Fauna and Flora) as an example, in which a group of sustainable use organisations gathered to discuss inputs to various CITES committees. Despite their differences in opinion on certain subjects, they were forced to come to an agreeable joint position as it was the CIC alone who was able to submit their collective thoughts to CITES due to its unique United Nations observer status.
Zoltán Kovács expanded on this point, suggesting that alliances require strong narratives to effectively communicate their messages. The use of symbolism by NGOs that are opposed to hunting was highlighted as an example of this in action, however their reliance on emotions in external messaging was mentioned as something sustainable use organisations are unable to employ due to the complicated and fact-based nature of their arguments.
After the panel discussion, a Q&A session was held with audience members. The need to meet with partners and potential allies in person was stressed as a key factor in strengthening alliances, particularly as a measure to combat any "vanity" that may exist in alliance members.
Zoltán Kovács gave one of the closing statements of the session in response to a question on the CIC's work in developing nations. Despite the common narrative suggesting that one should "think global, act local," he argued that a "think local, act global" approach would be better suited to the CIC in this case.
Due to the significance of local communities, particularly in rural areas, to the future of our planet, it can be argued that this approach will help bring their under-appreciated issues to the forefront of the global consciousness.
---