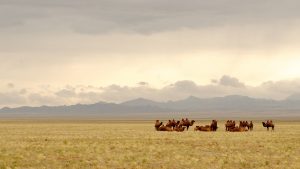 The Flying Vets Project in Mongolia has secured $2 million in funding from the UN's Nature for Health (N4H) initiative. The news was announced at the CBD COP15 in Montreal, Canada, where Mongolia was listed among five other countries as the first nations to join N4H.
The N4H initiative is run by the United Nations Multi-Partner Trust Fund Office, and was created to reduce the risk of future pandemics by fostering locally developed, integrated strategies to secure the health of people, animals and the environment through a One Health approach.
Supported by the Government of Germany through an initial commitment of €50 million, the initiative brings together leading UN agencies, Intergovernmental Organisations and civil society groups.
The CIC is one of implementing agencies of the Flying Vets project, which looks to strengthen Mongolia's ability to implement a One Health approach in dealing with wildlife diseases, including zoonoses.
Batkhuu Nyam-Osor – Advisor to the President of Mongolia – was in attendance at the N4H side-event in Montreal, where he highlighted the importance of the Flying Vets in securing the health of nomadic herders and their livestock.
The Flying Vets application was submitted to UNEP last year following a series of workshops on the project in Mongolia. Three Mongolian Ministers provided endorsements in support of the application; the Ministry of Food, Agriculture and Light Industries (MoFALI), the Ministry of Health (MoH), and the Ministry of Environment and Tourism (MOET).
With this funding secured, the Flying Vets project is planned to go ahead with a conventional UN based approach to running an in-country project, while being complimented by cutting edge initiatives which make a difference on the ground.
The road ahead will be focused on developing four core working areas identified as part of the workshops. Each working area will look to strengthen gaps within Mongolia's wildlife monitoring and management infrastructure, with key tools and processes for each having already been identified.
Data Collection and Analytics

Infrastructure and Logistics

Capacity Building

Technology and Innovation
---