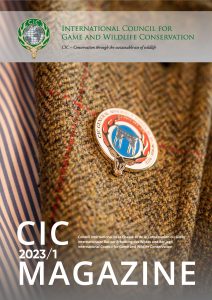 The 2023/1 Summer Edition of the CIC Magazine is now online! (EN/DE/FR)
In this special publication, we take a close look at the 69th General Assembly in Paris – the first international conference designed to move into implementation of the Global Biodiversity Framework – while considering its implications in relation to the future of our organisation.
Most importantly, we reflect on the key outcomes from the General Assembly and their integration into the first ever CIC Programme for 2030, guiding the CIC's work and activities up until the end of this decade.
In addition, we have covered some of the most exciting CIC news since the start of this year, including new partnerships, upcoming events and more.
We warmly welcome you to dive in and have a read through the content yourself!
The 2023/1 CIC Magazine is available in English, German and French.
---