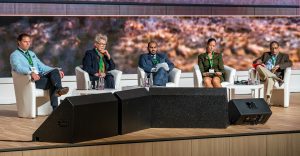 "Culture of the Countryside" was the theme of the fifth Technical Session of the 67th General Assembly. Moderated by Bernadin Malou, President of the CIC Culture Division, the session explored the cultural elements associated with the countryside.
While we often think about tangible elements of culture, what often goes unrecognised are its intangible elements. That is why this session sought to highlight these intangible elements of countryside culture.
The panellists for this session were:
Ambassador Katalin Bogyay (Hungary)
President of the United Nations Association of Hungary
His Excellency Sheikh Fahad bin Abdulrahman Al Thani  (Qatar)
Staff Officer in the Ministry of Defence of Qatar
Beatrix Bán (Hungary)
National Hungarian Hunting Culture Association. President of the "Diana" Club of Hungarian Lady Hunters
Ali Kaka (Kenya)
CIC & OWN Ambassador. IUCN Vice President
Ronald J. Regan (USA) Online Participation
Executive Director of the Association of Fish and Wildlife Agencies (AFWA)
The key issues related to the culture of the rural countryside were explored as panellists answered numerous questions on the topic.
Posed to Ronald J. Regan and H.E. Sheikh Fahad bin Abdulrahman Al Thani
What do rural cultures look like in your country or region? And how are they recognised and valued, or not?
Posed to Ambassador Katalin Bogyay
What are the core messages about Hungarian rural culture?
Posed to H.E. Sheikh Fahad bin Abdulrahman Al Thani
Many cultural elements have been placed on the UNESCO Lists of Intangible Cultural Heritage; are there any rural cultures in your country that might deserve this recognition? If yes, what are they, and would this help keep them alive?
Posed to Beatrix Bán
Following a submission by the Hunting Cultural Association, Hungarian hunting traditions were admitted to the National List of Intangible Cultural Heritage. How was your Association able to achieve this?
Posed to Ali Kaka
What role can cultures play in ensuring the survival of wildlife amidst growing challenges of competing land uses, over harvesting, and increasing population demand for land for development?
Posed to Ronald J. Regan
How are State Fish and Wildlife agencies addressing fundamental questions concerning the relevancy of conservation against a contemporary backdrop of emerging and changing values for landscapes, rural cultures, and so-called traditional uses?
Posed to Katalin Bogyay
How do you see the role of UNESCO in the protection of rural culture?
Posed to Beatrix Bán
Why is this (UNESCO Lists of Intangible Cultural Heritage) listing so important for your community and how does it help to keep Hungarian hunting traditions alive?
Posed to all
Is the movement in support of the countryside due to Covid-19 sustainable? And what can we do to make sure that the values of the countryside are promoted to ensure that people live closer to nature.
Following the panel discussion, a Q&A session took place with audience members posing questions to those on stage.
When discussing whether it is us as humans encroaching on nature, or nature encroaching us, the importance of harmony was stressed by the speakers.
Ali Kaka also spoke about the ban on hunting that was introduced in Kenya in 1977. It was suggested that local communities were indifferent towards the ban, as they were hardly benefitting from hunting activities that were taking place across the country. Should Kenya ever reconsider the hunting ban, it was stated that the demand must first come from the people.
---