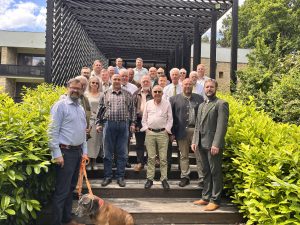 The 2023 International Trophy Evaluation Board (ITEB) Meeting took place on July 13th in Budakeszi, Hungary, bringing together 23 CIC Senior Trophy Judges who engaged in discussions on how to generate innovations in the measurement, collection and analysis of species-specific data.
The ITEB oversees the CIC Trophy Evaluation System (TES) and the training of Certified CIC Measurers. Among the key themes at this year's annual meeting was how to enhance the Trophy Evaluation Database in order to facilitate scientific wildlife research.
The Trophy Evaluation Database is a valuable resource in this context, currently hosting over 38,000 measurements from more than 30 countries.
Insights on the health of wildlife populations can be found by analysing changes in this data over time. This is only possible due to the unified training and homogenous data collection systems in place within the framework of the TES.
To build on these existing capabilities, the ITEB has agreed to further enhance the database with the intention of supporting academic research and allowing for deeper statistical analyses.
Work has already been underway with this in mind. As of today, measurers will be able to upload measurements to the CIC Trophy Evaluation Database through the use of spreadsheets, allowing a more efficient bulk import of data.
As a next step, the TES will be working with National Databases, investigating the possibility to import third party data directly into the CIC database. This would drastically increase data volume, thereby broadening the scope of potential studies.
Technical improvements to the database will also be implemented, such the introduction of automated checks and a more user-friendly interface; measures to improve funding available for these improvements were discussed as well.
Among the other decisions of note at the ITEB Meeting were handbook changes to species such as moose, Chinese water deer, maral, and wapiti.
In addition, Tony Dalby-Welsh was re-elected as Co-Chairman, who will now go into his third term in the role.
---