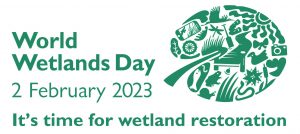 Today is World Wetlands Day!
This year's theme is It's Time for Wetlands Restoration, which is fully in line with the motto of the 69th CIC General Assembly – Restore, Rewild and Remind – taking place in Paris from 20-23 April, 2023.
Not only are wetlands an incredible source of biodiversity, they also provide vital resting places for migratory birds along their flyways.
For this very reason, the CIC played a key role in the establishment of the Ramsar Convention in 1971.
Through the multi-stakeholder CIC Membership present in over 80 countries, the organisation will continue to support the implementation of the Convention and its wise use principle.
Exploring the topic of wetlands as part of today's CIC Nordic Coordination Forum meeting in Sweden is Heidi Kruger – representing Finland as a CIC State Member – who will be sharing her country's experience in managing wetlands through wise use, as well as their own restoration efforts.
The CIC's other contributions to wetlands is as a permanent member of the African-Eurasian Migratory Waterbird Agreement (AEWA), with the CIC providing scientific expertise on migratory birds, as well as the importance of wetland conservation and restoration.
More than 35% of the world's wetlands have been degraded since the inception of the Ramsar Convention some 50 years ago, and more action is needed by all stakeholders to turn this trend.
---