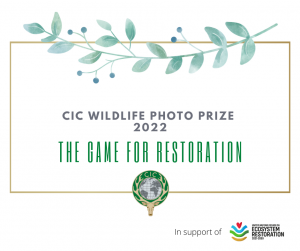 We are pleased to announce that we are taking submissions for the CIC Wildlife Photo Prize 2022!
The Wildlife Photo Prize provides hunters and wildlife lovers alike with an opportunity to express their passion for the natural world, while also acting as a platform to promote wildlife and ecosystems which are increasingly under threat.
This year, the Prize will be held in support of the UN Decade on Ecosystem Restoration – a call to protect and revive global ecosystems for the benefit of people and nature.
That is why the theme of the 2022 Wildlife Photo Prize is "The Game for Restoration".
We are challenging you to take photos that showcase the restoration of wildlife species and their habitats, particularly activities and settings related to conservation through sustainable use, including hunting.
This could be depictions of work on the ground (e.g. restoration of nesting grounds, anti-poaching activities), the end result of conservation projects, or anything else you can come up with!
The competition is open to all interested amateur and professional photographers. A selection of the best photos will be exhibited at the 68th CIC General Assembly in Riga, Latvia (9-12 June, 2022), where they will be submitted to an international jury.
The jury will select the top 3 submissions (ranked 1st , 2nd and 3rd) and the winning photographers, in addition to recognition, will receive a prize for their efforts. The winners will be announced during the Closing Session of the General Assembly on June 12th – winners will be informed at the latest one month after this date
Deadline for submissions: 15 May, 2022.
How to apply
Photographs submitted to previous CIC competitions will not be accepted
Each photographer can submit a maximum of 2 photographs
Send your submission as an attachment in an email to photo@cic-wildlife.org
In your email, please provide us with your name and a description of the circumstances under which the photograph was taken (who, where, relevance to conservation/restoration, etc.)
All participants must fill out and send in the "Acknowledgment of the Rules" together with their submission
Photo requirements
Colour balance rectification etc. is permitted
JPEG format
Email size should not exceed 10 MB
---