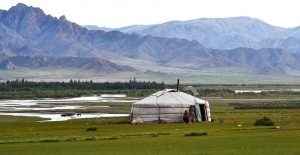 Mongolia's wildlife and livestock make up an essential part of the nation's cultural and economic identity.
Two of the nation's endemic species – the Przewalski's horse and the Saiga antelope – are known around the world as iconic symbols. They are sadly also known for their threatened populations.
The prevalence of wildlife diseases in Mongolia is partly to blame for this. One notable example is the virus known as Peste des Petits Ruminants (PPR), which led to the death of 1,000s of Saiga antelope in 2017.
Another unique part of the country's heritage is the Mongolian nomadic herders, who are keeping alive an ancient way of life as the world's last traditional nomads.
Unfortunately, the livelihoods of these herders are at risk. Once again, this is in part due to wildlife diseases, as well the unpredictable and often harsh climate.
In addition, these communities are facing increased risks associated with zoonosis, due to an increasing number of domestic animals encroaching into wild spaces.
Recognising these threats, the CIC decided it was time to take action.
That is why we are excited to announce a new CIC project: The Flying Vets!
In an effort to support Mongolian wildlife and people, the Flying Vets will look to strengthen the country's ability to implement a One Health approach in dealing with wildlife diseases, including zoonoses.
There no doubt that this initiative will be a huge undertaking, one that will require us to pool our resources and leverage the extensive CIC network.
If you would like support the project, click here to donate!
---
Events
Flurina Hammer and The Mongol Derby (July, 2022)
As part of the effort to raise awareness and funds for The Flying Vets Mongolia, we enlisted the help of long-time CIC and Young Opinion member Flurina Hammer, who took part in the 2022 Mongol Derby to help kick-start the launch of this project.
Flying Vets Multi-Stakeholder Meeting in Ulaanbaatar, Mongolia (August, 2022)
Hosted by the CIC and the World Organisation for Animal Health (WOAH) the Flying Vets Multi-Stakeholder Meeting brought together key experts in the fields of environment, human health and veterinary sectors to identify the issues – including environmental challenges – that may affect the public and animal health sectors in Mongolia and internationally.
The Flying Vets Workshop: Wildlife Disease Surveillance In Mongolia (October, 2022)
The Flying Vets Workshop: Wildlife Disease Surveillance was hosted by the CIC and WOAH, and sought to advance on the topic of wildlife disease surveillance which was first explored in the Flying Vets multi-stakeholder meeting that took place in August, 2022.
---