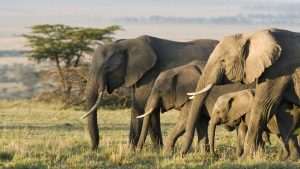 The 77th Meeting of the CITES Standing Committee (SC77) took place this week from 6-10 November, with attendees converging in Geneva, Switzerland to take part in proceedings.
In advance of the meeting, the CIC prepared position statements in collaboration with CITES Expert Members – and the Sustainable Use Group – on key areas of intervention.
Among the list of agenda items of relevance to sustainable use and wildlife management were the CITES Strategic Vision, the role of CITES in reducing the risk of future zoonotic disease emergence associated with international wildlife trade, the establishment of the CITES Youth Global Network, engagement of IPLC's, dialogue meetings with African elephant range states, and more.
Director General of the CIC, Sebastian Winkler, and CIC Policy Coordinator, Alexandra Kalandarishvili, were present in Geneva to provide support and input on behalf of the organisation.
Within the framework of the Standing Committee Meeting, the CIC supported a side-event which took place on 9 November on People & Elephants. The event was hosted by the CITES Botswana Delegation and was attended by the Botswana Ambassador to Switzerland.
People & Elephants Side-Event at 77th Meeting of the CITES Standing Committee
People & Elephants sought to explore the upcoming Dialogue on Elephant in early 2024, with the discussion focused on the social and environmental issues caused by elephant overpopulation in southern Africa.
As the area holds the highest population of elephants – and is a leading region for elephant conservation – it is also the region where the conservation success is causing significant environmental damage, as well as human-wildlife conflict.
In addition, the side event explored how climate change effects are being intensified by species exceeding their carrying capacity.
The expert speakers discussed links between unsustainable population growth and reduced food security, while considering different ways to address the issues at hand by joining the forces of local communities and scientists.
Speakers
Cyril Taolo, Ministry of Environment and Tourism of Botswana
Mamadou A. Kane, UN Environment Program
Dr. Patience Gandiwa, Zimbabwe Parks and Wildlife Management Authority
Elisante Ombeni Leguma, Ministry of Natural Resources and Tourism, Republic of Tanzania
Moderator
Sebastian Winkler, International Council for Game and Wildlife Conservation (CIC)
---