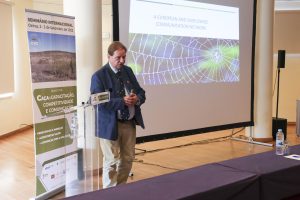 On 2-3 September, 2022, the world's foremost thinkers and practitioners working on hunting and sustainable use descended to Lisbon, Portugal for the Project C3C International Seminar, Hunting: Capacity, Competitiveness and Communications.
The event was dedicated to exploring three distinct working areas relevant to the wider hunting community: Managing risks and threats, Adding value and Communicating with society.
In attendance were a number of high-profile individuals working in this topic area, including the Secretary of State for Conservation of Portugal, João Paulo Catarino, and Pedro Vitorino from long-time partner of the CIC, Safari Club International (SCI) Europe.
Director General of the CIC, Tamas Marghescu, was in attendance at the event as one of the speakers for the communications portion of the seminar.
In his presentation – A European and Worldwide Communication Network – he outlined the communications landscape for organisations engaged in sustainable use, as well as the CIC's approach to its communications activities.
The current state of affairs for sustainable use organisations was largely summarised by the Director General as being one that requires action rather than inactivity.
By shifting from a world where hunting was an integral part of our society to one where it is under scrutiny on a daily basis, those working in this field now have a responsibility to be proactive in educating people on sustainable use issues.
For the CIC, it was stated that this means targeting the general public and policymakers, rather than engaging in debates with those opposed to hunting.
Activities in this regard were highlighted, such as the Debunking the Myths brochure for policymakers, as well as the CIC's International Journalism Symposium, which has resulted in outputs and articles in prominent publications such as The Guardian newspaper and National Geographic.
Regarding the future of the organisation, the new CIC Statutes were detailed along with its implication for the CIC's ongoing work. By committing to the principles of "One Health," the UN Decade on Ecosystem Restoration and supporting Indigenous Peoples and Local Communities (IPLCs), it was suggested that the CIC has ushered in a new era that looks to address larger sustainable development issues.
New and innovative communications initiatives were also teased for those in attendance. You will be hearing more about these projects in the coming months, so make sure to watch this space.
On a related topic, the importance of engaging in good causes was stressed to audience members.
The CIC's work in providing humanitarian support to Ukraine, as well as its cooperation agreement with the Hungarian National Hunting for Charity organisation – which provides equipment for pediatric hospitals – was given as an example of how to foster goodwill, together with its positive impact on the image of hunting.
The broad significance of funding and financing was brought up as a closing note. Communications was stated as being an arms race. And with sustainable use organisations unable to streamline their resources, future collaboration was mentioned as a vital factor in future activities.
By launching fundraising initiatives and streamlining existing resources, it was suggested that new impactful projects could be explored going forwards. One example that was given was the use of alternative services to determine the health of organisations working adjacent to sustainable use organisations.
If you are interested in contributing towards the CIC, you can do so by donating to us here. Every cent goes a long way to facilitating our work in conserving biodiversity and supporting local communities.
---