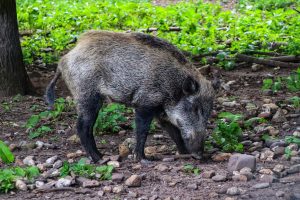 On 7 January, regional authorities confirmed the first case of African Swine Fever (ASF) in Piedmont. The analysis of a wild boar carcass carried out by the Experimental Zooprophylactic Institute of Piedmont, Liguria, and Valle d'Aosta revealed the presence of the disease. The animal was found in Ovada (Alessandria province), located about 120 km southwest of Milan in northern Italy. Other carcasses were found in neighbouring areas – Franconalto, Voltaggio and, Isola del Cantone – between Piedmont and Liguria, bringing the number of cases to 6.
The infected area identified by the Ministry of Health now covers 114 municipalities, 78 in Piedmont and 36 in Liguria. Accordingly, the Ministry invited the two regions to suspend hunting in all municipalities falling within the infected area. Further, it gave instructions to the adjacent regions to implement a series of measures to prevent the spread of ASF.
Officially, Italy is not 100% free from ASF. The genotype I is endemic in Sardinia. Nevertheless, as expected by many experts, the analysis results show that the current outbreak in Northern Italy is genotype II. As pointed out by the World Organisation for Animal Health (OIE), it is the same strain currently circulating in Europe, characterising the epidemic wave that began in 2007.
EU Member States presently affected by ASF are Estonia, Lithuania, Latvia, Poland, Bulgaria, Hungary, Romania, Slovakia, and Germany. The Czech Republic and Belgium successfully eradicated the disease and were declared ASF free by the European Commission.
The Italian hunting association, Federcaccia (FIDC), mobilised its national structure to fully collaborate with the regions in line with national protocols.
Hunters have a key role to play in helping to combat this disease. The task now is to quickly isolate the locations where carcasses are found in order to prevent further spread.
Both FACE and the CIC remain active in communicating with their members and with a wide range of stakeholders in the policy discussions around combating ASF.
Further information:
---