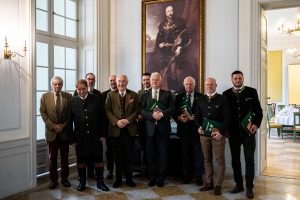 A number of CIC members and partners were recipients of the newly established Count Lajos Károlyi Medal of Merit, in recognition of their contributions to conservation through sustainable use and hunting.
The new award was created to commemorate the 150th birthday of Count Lajos Károlyi (1872 – 1965), a Hungarian nobleman and one of the founders of the CIC who practiced and demonstrated exemplary sustainable wildlife management on his estates.
The award ceremony was organised at the Károlyi Mansion in Fehérvárcsurgó, Hungary on December 5th by Count József Károlyi – CIC member and grandson of CIC founder Count Lajos Károlyi – in cooperation with the Slovakian Charity Hunting Organization.
Among those recognised as part of the proceedings were:
Tamás Marghescu (CIC Ambassador & former CIC Director General)
Zsolt Semjén (Deputy Prime Minister of Hungary & Patron of the CIC)
Zoltán Kovács (State Secretary of Hungary & Head of the Hungarian CIC Delegation)
Rudolf Gürtler (CIC Member & former CIC Vice President/Head of Delegation)
Béla Hidvégi (World-famous Hungarian mountain hunter and conservationist)
The award was presented to recipients by Count József Károlyi and Dr. Zsolt Puha, founder of the Slovakian Charity Hunting Organization.
The CIC congratulates all laureates for their exemplary work, and for contributing to wider conservation goals through their engagement in sustainable use.
---