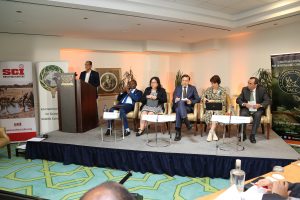 From left to right: Mr. Ali Kaka, Hon. Pohamba Shifeta, Ms. Ivonne Higuero, Mr. Jorge Rodriguez Romero, Dr. Dilys Roe, Mr. Álvaro Amaro 
Brussels, 27 April 2022 – When hunting in Africa is debated in Europe, the media tends to focus on a few charismatic species, using the term "trophy hunting". The reality is that hunting is mainly centred around common and abundant species, which gives large areas of land conservation value, especially in areas where other economic activities are unviable. Hunting thereby produces revenue for a range of conservation activities including protected area management and community-based conservation.
The Convention on International Trade in Endangered Species of Wild Fauna and Flora (CITES) regulates the international trade of wild species at sustainable levels to ensure that this trade does not threaten their survival. This international agreement is relevant for a number of species where regulated hunting is an economically important conservation and management tool. Even though CITES has 184 Parties, including the EU and its Member States, some European governments see fit to introduce stricter national laws on the importation of hunting trophies.
The conference "Is Africa being heard? Hunting, Conservation and Livelihoods" set out to debate this hot topic with a high-level panel discussion. The event was jointly organised by Álvaro Amaro MEP, President of the European Parliament's Intergroup on "Biodiversity, Hunting, Countryside" and the Intergroup's Vice President Juan Ignacio Zoido MEP.
During his introduction, Álvaro Amaro MEP welcomed the high-level panel stressing that: "Decision-making should be based on scientific evidence and informed by existing internationally agreed policy/legal frameworks". He added that: "It is critical to consult the stakeholders from the respective countries and acknowledge that there is a comprehensive regulatory framework in place, which brings tangible benefits not only to local economies and the people living in rural communities, but also to sustainable wildlife management, conservation and trade, when properly enforced".
Hon. Pohamba Shifeta, Namibia Minister of Environment, Forestry and Tourism, set the context by stating: "Hunting, conservation and livelihoods are very important. This is true not only in the context of this conference but to my Government and our Namibian local communities, who coexist with wildlife and experience daily incidents of human-wildlife conflict, including losses of human lives. Through hunting, we have been able to fund conservation and community development projects. Consequently, we have managed to increase our wildlife populations.  Namibia's view is that, hunting is conservation and conservation is hunting, hence the two cannot be separated. That is the view we advocate for and we would like others to fully understand and recognise this. It is therefore important for me to be at this conference, to ensure our voice is heard and our views considered when EU Member States are making wildlife-related decisions, which have the potential to negatively impact our community and conservation programmes".
In his keynote address, Mr. Jorge Rodriguez Romero, Deputy Head of Unit, European Commission, DG Environment, Multilateral Environmental Cooperation, stated: "The presumed impacts – both positive and negative – of trophy hunting have important consequences for biodiversity and for local populations. As such, policies on trophy hunting management must be realistic, evidence-based, and responsive to emerging knowledge and conversations. The ongoing revision of the EU Action Plan against Wildlife Trafficking will be an opportunity to evaluate the EU approach, and if appropriate, to strengthen the management of the trade of hunting trophies to align with the latest evidence".
Ms. Ivonne Higuero, Secretary General of CITES added: "Our goal is to conserve our endangered wildlife and to do that we have to be guided by science. Where there is scientific evidence that a specific measure can help in the conservation of a species, then it is our duty to consider it. The Parties to CITES agree there is evidence that shows that well managed and sustainable hunting can have a positive impact on species conservation".
During the panel discussion, Dr. Dilys Roe, Chair of the IUCN Sustainable Use and Livelihoods Specialist Group (SULi), stated: "The majority of the world's wildlife lives outside of national parks and on land owned or managed by indigenous people and local communities. Yet they are all too often excluded from decision-making processes about wildlife management. It's critical that local voices are listened to, and their priorities, knowledge and experience taken into account if we are to secure a long-term future for wildlife in Africa and elsewhere".
Dr. Rodgers Lubilo, Community Leaders Network of Southern Africa, added that: "Local communities who reside with wildlife are essential stakeholders who should not be left behind in any decision regarding use and management of these resources. Our people have over the years endured all the challenges to protect and secure much needed habitat to keep our wildlife safe. Sustainable hunting is cherished by us as it contributes to the livelihoods of our people. We detest international manoeuvrers by some European countries who are influenced by celebrities to push for hunting and trophy import bans. Our rights must be respected as we conserve these resources. In the same spirit, I call upon CITES to be more inclusive and take into account impacts on communities in their decisions. I am disappointed that the CITES Rural Communities Working Group has not been effectively organised, which we see as an attempt to ignore or diminish the voices of local communities. Hunting is critical to conservation and is part of our commitment to continue to be good stewards of wildlife".
Mr. Ali Kaka, a national of Kenya and Regional Councillor of the International Union for Conservation of Nature (IUCN), the largest umbrella organisation for nature conservation organisations in the world, moderated the discussion and encouraged interventions and questions from the audience.
In his conclusion, Juan Ignacio Zoido MEP stressed that it is vital to recognise local and indigenous people's rights to sustainably use and manage their natural resources. He stated that: "Africa's wildlife management authorities and the community-based organisations are successfully managing and conserving their wildlife through sustainable use activities, including hunting. Decision-makers should work with Africa's leaders in order to continue, support, enhance, and replicate their success".
This conference was organised in conjunction with the European Federation for Hunting and Conservation (FACE), the International Council for Game and Wildlife Conservation (CIC), Safari Club International (SCI), the Safari Club International Foundation (SCIF) and Dallas Safari Club (DSC) and the European Landowners' Organization (ELO). The aim was to provide a stage for African voices, decision-makers and experts on the topic of hunting, conservation and livelihoods in Europe's capital city, Brussels.
---