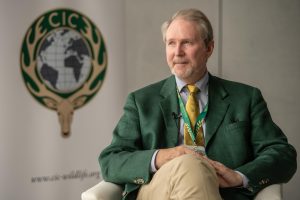 Philipp Harmer Succeeds George Aman as President of the CIC
"Hunting Renders a Service to Nature and Society"
Budapest, Hungary, 28 September 2021 – 67th CIC General Assembly
The International Council for Game and Wildlife Conservation (CIC) bids a warm farewell to its outgoing President, George Aman from Switzerland, who has chosen to step down from the position after a successful 5-year tenure. In turn, the CIC welcomes its unanimously elected new President, Philipp Harmer from Austria.
"Building partnerships and alliances with both hunting and non-hunting organisations has been my main priority. Recognising that we share values, we have to stand for them together," said George Aman, looking back.
During his inaugural speech, Philipp Harmer drew attention to some of the many highlights and successes that George Aman achieved during his Presidency, including:
Strengthening the CIC's position as a voice for conservation through sustainable use within the IUCN, and standing together with the world organisations for Equestrian and Fishing organisations for the sustainable use of nature
Memorandum of Understanding with the China Wildlife Conservation Association
Establishment of the "1 Euro per Hunter" initiative
Fighting for ending to the practice of Captive Bred Lion Shooting
Upon his election as the new CIC President, Philipp Harmer introduced his vision for the CIC going forward:
"We shall work on the general understanding that HUNTING renders a valuable SERVICE to NATURE and SOCIETY."
The program of his Presidency will focus on four key elements:
Communicating the fact that responsible hunting is sustainable use, and that it benefits biodiversity and people;
Building and extending international alliances and partnerships for the survival of wildlife;
Fighting wildlife crime across the world; and
Promoting scientific research for a better understanding of nature.
Philipp Harmer enjoys the support of CIC members from around the world. He is a dedicated hunter and wildlife conservationist, with practical experience globally. He is in the chocolate industry and manages activities in tourism, real estate, agriculture and forestry in Austria, Czech Republic and Hungary.
A copy of the Curriculum Vitae of LL.M. Dr. Philipp Harmer can be found here.
————————————————————
FOR MORE DETAILS:
Tamás Marghescu, Director General of the CIC
H-2092 Budakeszi, P.O. Box 82, Hungary
Tel: +36 23 453 830
E-Mail: office@cic-wildlife.org
————————————————————
The International Council for Game and Wildlife Conservation
The International Council for Game and Wildlife Conservation (CIC) (French: Conseil International de la Chasse et de la Conservation du Gibier, German: Internationaler Rat zur Erhaltung des Wildes und der Jagd) is a politically independent not-for-profit international organisation, aiming to preserve wildlife by advocating for the sustainable use of wildlife resources. The acronym "CIC" comes from the organisation's original French name Conseil International de la Chasse.
The CIC was founded in 1930. Originally, the legal seat and headquarters of the CIC were in Paris. Today, the Legal Seat of the organisation is in Vienna, Austria; while since 1999, the CIC headquarters is located in Budakeszi, Hungary. The organisation unites 30 State Members (represented by Ministries responsible for wildlife management and conservation, or other delegated institutions), a wide range of organisations engaged in wildlife conservation, as well as individuals such as private members and scientific experts from 86 countries. The organisation has diplomatic status in Hungary, and intergovernmental observer status at Multilateral Environmental Agreements of the United Nations.
MISSION OF THE CIC: To promote and support the conservation of wildlife and related landscapes, local communities, and traditions through sustainable use including hunting.
VISION OF THE CIC: A world where wildlife is valued and conserved as part of nature for the benefit of humanity.
---