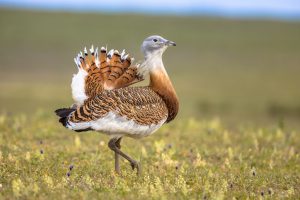 Slovakia, Hungary and Austria have signed a new declaration on cross border cooperation on the protection of great bustard as part of the 5th Meeting of Signatories (MOS5) of the Memorandum of Understanding on the Conservation and Management of the Middle-European Population of the Great Bustard (Otis Tarda).
The meeting – organised by the Convention on the Conservation of Migratory Species of Wild Animals (CMS) – took place this week in Bratislava, Slovakia, where attendees convened to discuss ongoing conservation concerns and management measures related to this iconic species.
Deputy Director General of the CIC, Arno Wimpffen, was in attendance as the CIC representative to offer continued support as one of the four executing agencies of this CMS Memorandum of Understanding.
The conservation status of the great bustard, one of the world's heaviest flying birds, is a cause for concern with the species categorised as "Vulnerable" on the IUCN Red List.
Its existence is under threat primarily due to the loss of its natural habitat caused by agricultural expansion and urban development. The ongoing effects of climate change, nesting conditions and food availability, compound these challenges.
Safeguarding the great bustard's future in the wild necessitates concerted efforts like habitat restoration, alongside heightened awareness and cross border collaboration.
The new declaration between the three Central European countries is set to facilitate the coordination of existing conservation measures for the species, with collaboration a particular necessity in light of the trans-boundary populations of great bustard that can be found across the region.
The declaration was signed by the following representatives: Bertalan Balczó (Deputy State Secretary, Ministry of Agriculture; Hungary) Katarina Butkovská, (State Secretary, Ministry of Environment; Slovakia) and Dr. Peter Iwaniewicz (Head of Department, Ministry of Environment; Austria).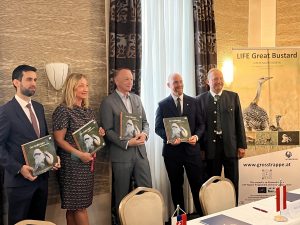 ---