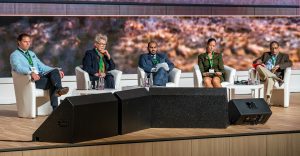 "Culture of the Countryside" was the theme of the fifth Technical Session of the 67th General Assembly. The session was moderated by Bernadin Malou, President of the CIC Culture Division.
The panel of high-level representatives was comprised of:
Ambassador Katalin Bogyay (Hungary)
President of the United Nations Association of Hungary
His Excellency Sheikh Fahad bin Abdulrahman Al Thani  (Qatar)
Staff Officer in the Ministry of Defence of Qatar
Beatrix Bán (Hungary)
National Hungarian Hunting Culture Association. President of the "Diana" Club of Hungarian Lady Hunters
Ali Kaka (Kenya)
CIC & OWN Ambassador. IUCN Vice President
Ronald J. Regan (USA) Online Participation
Executive Director of the Association of Fish and Wildlife Agencies (AFWA)
The session looked at some of the cultures that exist in, or stem from, the countryside. It explored how these are recognised at both national and international level, as well as the responsibilities and means available to protect and safeguard them. The question of how to sustain these cultures, in the face of constant change and influences from urban areas in particular, was an underlying theme of the session, as was the need to safeguard them in the interest of nature and human survival.
In his opening remarks, Ronald J. Regan emphasised the diversity of the rural landscape and cultures in the United States of America. While some 80 percent of Americans live in urban or suburban areas, he stressed that despite the relative disconnect between urban and rural America, the rural ethos namely 'Hard work, harsh landscapes, and wild places' is held in high esteem by urbanites. Despite this, many still have romantic ideals about the countryside.
His Excellency Sheikh Fahad bin Abdulrahman Al Thani also stressed the strong links of Qataris to the countryside, areas where many would have traditionally spent the winter months. These rural areas have shaped national heritages and cultures. These connections have helped maintain cultures and traditions, which are passed down from generation to generation.
Ali Kaka went on to highlight the links to nature conservation, stressing that culture has always played a central role in the conservation of all species and their habitats. There was always a mutual respect, a dependency on nature by people. This ensured a balance between use and protection. This meant that in Kenya for example, local communities did not need outside people to come in and tell them what they should do.
The role of UNESCO's Intangible Cultural Heritage Convention in making the invisible, visible, was highlighted by Ambassador Katalin Bogyay. She explained that to-date, everything on the national list for Hungary came from the countryside. Why? Because none of these would otherwise be obvious to people in everyday situations e.g., folk dance traditions, Busó festivities at Mohács, and Matyó Embroidery. This recognition provides a platform to share, but also a responsibility to protect, one which is implied in the regular reporting requirement for each inscription.
Beatrix Bán gave the recognition of 'Hungarian Hunting Traditions' on the list of Intangible Cultural Heritages in Hungary, as a possible weapon which could be used against those opposed to hunting. She explained how it draws attention to hunting as an ancient passion and practice, and helps to protect rurality and heritage. It was stressed that community participation was a key factor in the process of getting the traditions inscribed. Ultimately, it is a moral recognition for the various practices that make up hunting traditions, and for the country.
Many of the panellists highlighted the role that Covid-19 has played in helping people to understand humanity's need for intact natural systems in order to survive. Looking at cultures around the world today, the breakdown in the balance between people and natural resources was highlighted. Respect that used to exist is no longer there, leading to "invasions" of natural habitats.
Ultimately, many panellists agreed that we must go back to our cultures and traditions for there to be any chance for the survival of our wildlife and fisheries in particular. In this regard, AFWA has developed a relevancy roadmap: a non-prescriptive voluntary toolbox. In doing so, they are trying to make the case that fish and wildlife considerations are a driver for the quality of life of all citizens of the US.
The rich discussions carried many key messages, but perhaps the most important one was that much of our cultures and heritage, and indeed the foundations of nature conservation are intimately linked to the countryside. It was agreed by all that this needs to be made more visible, and needs protecting and safeguarding through whatever means necessary. This includes recognition for example through UNESCO's Intangible Cultural Heritage Convention, or through national lists of Intangible Cultural Heritage at country-level.
---