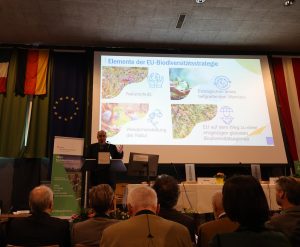 Over 700 people were in attendance to explore and discuss hunting systems in Europe at the 28th Austrian Hunters' Conference (6-7 March, 2023) in Aigen im Ennstal, Austria.
Co-organised by President of the CIC Applied Science – Dr. Klaus Hackländer – the conference was among the largest German-speaking gatherings to assess the state of play on hunting
500 people attended in-person, and over 200 participants online, to discuss domestic hunting practices from the perspective of national and international hunting systems.
A holistic overview of the frameworks in place for hunters was explored through a number of presentations, with particular consideration given to the impacts beyond hunting.
Sebastian Winkler, Director General of the CIC, was in attendance at the event, launching the two-day affair with an opening speech providing an overview on hunting systems in Europe, while also highlighting the work of the CIC within the context of its policy contributions at the global and European level.
"A diversity of national hunting systems, yet united for the cause of wildlife conservation and sustainable use.
The CIC forefathers were actively engaged in the science-policy-practice interface to inform and establish many of today's international agreements (i.e. CITES, Ramsar, CBD). It is critical for hunting to support and inform the implementation of these agreements at the global and European level."
Other topics discussed as part of the deliberations included ski tourism, wildlife rest areas, energy, habitat, and the image of hunting in the media.
---