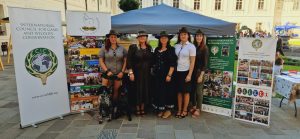 Last weekend saw the 30th anniversary of the Saint Hubertus Days festival, an event which was hosted on the iconic grounds of the Museum of St. Anton in Svätý Anton, Slovakia.
The festival was a celebration of hunting and the hunting community, bringing together over 7,000 guests from different ages and backgrounds sharing a common passion.
President of the CIC Artemis Working Group, Soňa Chovanová Supekov, was in attendance together with her colleagues from the Club of Slovak Ladies Hunters.
As part of the festivities, a CIC booth was set up for visitors, where people could learn more about the work of the organisation.
The CIC World Game Cookbook, a collection of 207 game meat recipes from 66 different countries and regions, was a particular highlight, as the Slovakian version was recently launched to the public as the first non-English edition of the book.
In addition – as part of the CIC's commitment to engaging young people on sustainable use issues – a youth education zone was set up for the children in attendance.
The area was dedicated to teaching kids about the practice of hunting, along with all its cultural elements.
For more on the event, see the slideshow below with pictures of the festivities.
---
---