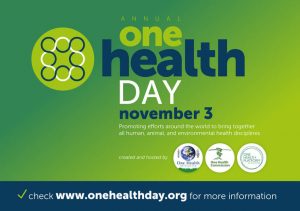 Today is One Health Day, an international campaign that brings attention to the need for a One Health trans-disciplinary approach towards solving critical global health challenges.
Our encroachment into wild and natural spaces is an issue that grows with every passing second.
Wildlife is an entangled part of human existence, and the threat of infectious wildlife diseases is one that has to be addressed now rather than later.
The COVID-19 pandemic serves as a stark reminder of the potential consequences of inaction.
With that in mind, what are the potential solutions to these issues?
As part of One Health Day, FAO and the EcoHealth Alliance have published a study which suggests that the integration of the natural resource sector into efforts to mitigate the risk of emerging infectious diseases is essential.
The Flying Vets projects is one real world example of this idea in practice.
The Flying Vets is an initiative of the CIC and the World Organization for Animal Health (WOAH), which looks to strengthen Mongolia's ability to implement a One Health approach in dealing with wildlife diseases, including zoonoses.
By bringing together stakeholders from the environment, human health and veterinary sectors, we can work on solutions to critical issues such as wildlife disease surveillance in a more effective and timely manner.
Supporting The Flying Vets – and other projects that bridge the gap between different disciplines to solve global health issues – will be essential if we are to build towards a sustainable future.
For more information on The Flying Vets, visit our dedicated webpage on the project.
---