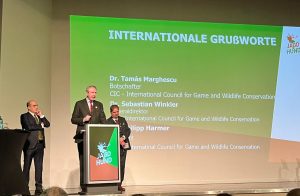 From left to right: Sebastian Winkler (CIC Director General), Dr. Philipp Harmer (CIC President) and Tamás Marghescu (CIC Ambassador)
The 2023 Jagd and Hund Fair opened its doors in Dortmund, Germany today, welcoming in an international crowd of exhibitors, policymakers, wildlife experts, and visitors to Europe's largest hunting exhibition.
Jagd and Hund is hosted every year with the aim of bringing together those working on hunting and conservation through sustainable use.
This year's exhibition will be particularly active with a significant presence from African delegations expected. Going into the event, the CIC has supported the participation of community leaders from Botswana and Zambia.
In addition, as reported yesterday, representatives of the Government of Botswana are in attendance to explore synergies with Germany and other stakeholders.
We have already seen significant developments in this regard as part of today's proceedings, with Botswana officially unveiled as a Jagd and Hund Partner Country for 2024.
This represents a significant shift in the country's attitude towards sustainable use, a move that was first initiated in 2019 when they lifted a moratorium on hunting, citing the many benefits derived from regulated, sustainable hunting activities.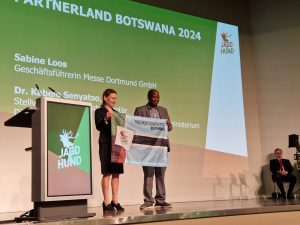 Botswana presented as a Jagd and Hund Partner Country for 2024
As with tradition, a CIC delegation will be in attendance in Dortmund throughout the course of the event. President of the CIC, Dr. Philipp Harmer, was invited as one of the speakers for today's Opening Ceremony.
While welcoming attendees to the exhibition, he took the chance to introduce the new CIC Director General, Sebastian Winkler, who is attending his first Jagd and Hund.
Tamás Marghescu – who stepped down from the position of Deputy General last year and is now a CIC Ambassador – then had an opportunity to address visitors and to reflect on his time attending the exhibition over the years with the CIC.
The next few days are expected to be an opportunity to create new partnerships and explore the path forward for many wildlife conservation issues.
Notably, the CIC and FACE are due to hold their annual meeting on the outskirts of Jagd and Hund.
In addition, the German Delegation of the CIC hosted a side-event today – The Game and Forest of Tomorrow – which examined the role of wild ruminants in forest ecosystems, and provided insights on the reform of Germany's Federal Forest Act.
---