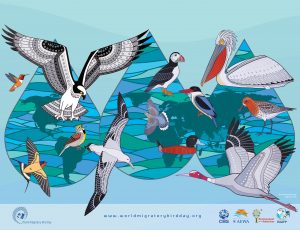 Water: Sustaining Bird Life is the theme for this year's World Migratory Bird Day (WMBD).
WMBD is a biannual campaign that looks to raise awareness of migratory birds and the need for international cooperation to conserve them; May 13th and October 14th are the dates for WMBD 2023.
Why focus on water for this year's event? Aquatic ecosystems are becoming increasingly threatened around the world. So too are the migratory birds that depend on them.
Inland and coastal wetlands, rivers, lakes, streams, marshes, and ponds all serve as vital feeding, drinking, or nesting sites, as well as resting stops for migratory bonds on their long journeys.
Issues like pollution, climate change and human demand for water are also putting enormous pressures on ecosystems, as well as the availability of clean water for wildlife species.
Access to clean water is an issue that very much extends to humans too, one that we are facing at this very moment. That is why it is essential that all individuals and entities take action now to help support this global conservation and sustainable development crisis.
Earlier this year, President of the CIC, Dr. Philipp Harmer, spoke about the ways in which hunters are supporting migratory birds and their associated aquatic ecosystems:
"In an increasingly interconnected world, an ecosystem-level approach to conservation is the most effective way to provide holistic benefits to our wild plant and animal species.
Hunters are already playing an essential role in preserving aquatic migratory bird ecosystems, such as through predator control, managing nesting sites or preventing the spread of avian influenza.
As global pressures on migratory birds continue to grow, it is vital that we consistently provide and expand on these services going forwards."
Executive Secretary of AEWA, Dr. Jacques Trouvilliez, recently discussed migratory birds within the context of hunters' broader contributions to conservation at the Biodiversity 2030: A "One Health" Perspective Technical Session held within the framework of the 69th CIC General Assembly.
Part of the session explored the role of hunters in limiting the spread of wildlife diseases, with avian influenza given as one specific example.
A full summary of this session at the General Assembly can be found here.
---