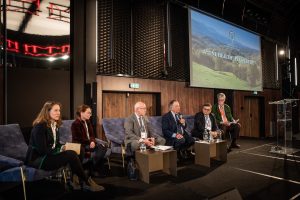 In an increasingly interconnected world – where humans, animals and the environment all interact with one another – we need a multi-disciplinary approach to supporting planetary health.
Technical Session V of the 69th General Assembly was Biodiversity 2030: A "One Health" Perspective, which sought to explore what "One Health" truly means to a variety of practitioners.
Introductory Report
Dr. Jean-Phillipe Dop, Deputy Director General of WOAH
Speakers
Bernard Vallat, President FICT, Former Director General of WOAH
Dr. Jacques Trouvilliez, Executive Secretary of AEWA
Flurina Hammer, CIC member Switzerland
Antje Katrin Bednarek, German Veterinarian
Moderator
Torsten Mörner, Vice-President of the CIC
What was clear from this session is the role that hunting already plays in providing holistic support in a number of fields and disciplines.
Bernard Vallat suggested that hunters are the best "sentinels" in providing early warning and rapid control for biological events. Without this form of rapid control, biological events can become pandemics with an exponential associated cost.
A practical example of this in action is the work hunters are doing to limit the spread of African Swine Fever (ASF).
Antje Katrin Bednarek spoke about the ongoing threat of ASF, which continues to grow more severe with a now year-round cycle for the disease (as opposed to only in the winter), and a recorded case of transmission to a mammal (fox). Hunters are now playing a vital role in managing incidents of ASF, by not only shooting those infected with ASF, but also by training dogs to check and find carcasses infected with the disease.
Similarly, hunters are also able to slow the spread of avian influenza through their work conserving wetlands. Dr. Jacques Trouvilliez noted how human pressure and climate change can cause migratory bird species to be more densely populated in wetland areas, increasing the likelihood of transmission.
The work that hunters are doing to protect and restore wetlands – as one of the only stakeholders with a vested interest in wetland conservation – is therefore beneficial in this context.
Speaking about the implementation of One Health was Flurina Hammer, who talked about her work with the CIC's Flying Vets Mongolia project.
The project, which recently received funding from UNEP's Nature for Health initiative, looks to strengthen Mongolia's ability to implement a One Health approach in dealing with wildlife diseases, including zoonoses.
By hosting multi-stakeholder meetings – which brought together key experts in the environment, human health and veterinary sectors – a multi-disciplinary approach was the starting point for implementing One Health in Mongolia, taking on board the interests of a variety of stakeholders.
Dr. Jean-Phillipe Dop underlined the general importance of work to support animal health, stating that global health requires principles of One Health, which includes a strong animal health component.
A motion on One Health was later adopted as part of the General Assembly proceedings, which called on the CIC to support the UN One Health efforts through "citizen science and contributing to the efforts of monitoring and preventing future zoonotic diseases."
---
Held under the theme Biodiversity 2030: Restore – Rewild – Remind, the 69th CIC General Assembly was among the first international conferences designed to move into implementation of the recently adopted 2030 Global Biodiversity Framework (GBF) and support the UN Decade on Ecosystem Restoration.
Hosted in Paris, France the event was both a reflection back on the organisation's heritage and a look forward to the future, with its outcomes due to be used to build the 2030 CIC Programme.
Summaries of the other Technical Sessions that took place at the General Assembly can be found below:
Biodiversity 2030: A Global Perspective
Biodiversity 2030: A French Perspective
Biodiversity 2030: A Stakeholder Perspective
---