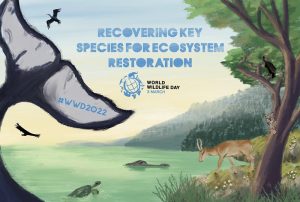 Please note that the CIC was involved in several events as part of World Wildlife Day 2022. To see summaries of our involvement in WWF's #WORLDWITHOUTNATURE campaign, as well as the press conference on wildlife crime organised in Vienna, Austria, please go to the relevant links.
Today, the wider world of conservation joins in celebrating UN World Wildlife Day 2022.
Arguably the most significant event in the calendar year for wildlife issues, World Wildlife Day (WWD) is dedicated to raising awareness on the world's wild animals and plants.
This year, the initiative is held under the theme "Recovering key species for ecosystem restoration".
The goal is to highlight the conservation status of critically endangered species, with the aim of driving new efforts that look to conserve such species, restore their habitats and promote their sustainable use.
President of the CIC, Dr. Philipp Harmer, spoke on the importance of supporting species conservation with ecosystem health and human well-being in mind:
"Ecosystems are a delicate balance between wildlife species, habitats, and the people that live in wild areas. The loss of even just one species can have a devastating effect all across the ecosystems that they inhabit.
The people that rely on the sustainable use of wildlife as part of their livelihoods will sadly be the first among us to realise the scale of this loss.
This is precisely why the theme for World Wildlife Day 2022 is so important. Efforts that look to spark interest in conservation are invaluable, particularly when considering the intertwined relationship between human health and the natural world."
While the threat to global biodiversity may seem like a huge, insurmountable challenge, you can also make a tangible difference by focusing on just one species.
That is why the CIC is challenging its friends and partners to get involved in the conservation of an endangered species of their choice.
Whether it is by getting active on social media, or by supporting a local community project, your involvement in the protection of one species can have a big impact in the real world.
Supporting the different elements of ecosystems through an integrated approach has been a key part of the CIC's work for many years.
That is why the CIC adopts the principles of One Health when supporting endangered species, with our work looking to balance the health of people, animals and ecosystems in tandem.
---