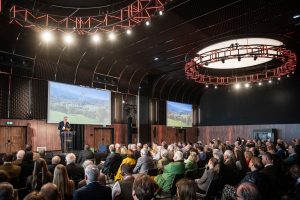 Summaries of the Technical Sessions that took place at the General Assembly can be found below:
Biodiversity 2030: A Global Perspective
Biodiversity 2030: A French Perspective
Biodiversity 2030: A Stakeholder Perspective
Biodiversity 2030: A Communication Perspective
Biodiversity 2030: A "One Health" Perspective
---
Held under the theme Biodiversity 2030: Restore – Rewild – Remind, the 69th CIC General Assembly was among the first international conferences designed to move into implementation of the recently adopted 2030 Global Biodiversity Framework (GBF) and support the UN Decade on Ecosystem Restoration.
Hosted in Paris, France the event was both a reflection back on the organisation's heritage and a look forward to the future, with its outcomes due to be used to build the 2030 CIC Programme.
The French Delegation of the CIC – as the hosts of the event – welcomed participants at the Opening Ceremony with CIC Vice President, Prince Alexandre Poniatowski, thanking people for attending while referencing the CIC's roots in France, where the organisation was first founded in Paris back in 1930.
Head of the French CIC Delegation, Emmanuel Michau, also highlighted the importance of the conference for our planet's health, touching on the "Biodiversity 2030" theme attached to each of the Technical Sessions for the day's proceedings.
The CIC's work on biodiversity, particularly through support for the coming decade's conservation agenda, was very much a strong theme at the Opening Ceremony that set the scene for the conference to come.
During his Welcome speech, President of the CIC, Dr. Philipp Hamer, emphasised the importance of the GBF for the organisation, noting that this builds directly on the new CIC Statutes that were approved at last year's General Assembly in Riga, where the GBF was outlined as a key component of the CIC's work on wider sustainable development issues. A transcript of his full Welcome Speech is available here.
Providing a French perspective on the CIC's activities was Willy Schraen, President of the French National Hunters Federation (FNC) and Pierre-Edouard Guillain, Deputy Director General of the Division of Water and Biodiversity from France's Ministry of Ecological Transition. 
Willy Schraen noted how the CIC role has played a key role in supporting rural stakeholders in recent years, with suggestions that the CIC is well placed to become the organisation that will unite all the forces from the countryside going forwards. A transcript of his full Welcome Speech is available here (EN, FR).
Discussing the profound link between biodiversity and hunting was Pierre-Edouard Guillain, who highlighted the need for science and facts to serve as the backbone for all biodiversity and sustainable use activities.
---